The Government should work with Ha Noi to reduce the number of personal vehicles on the road in order to reduce traffic congestion.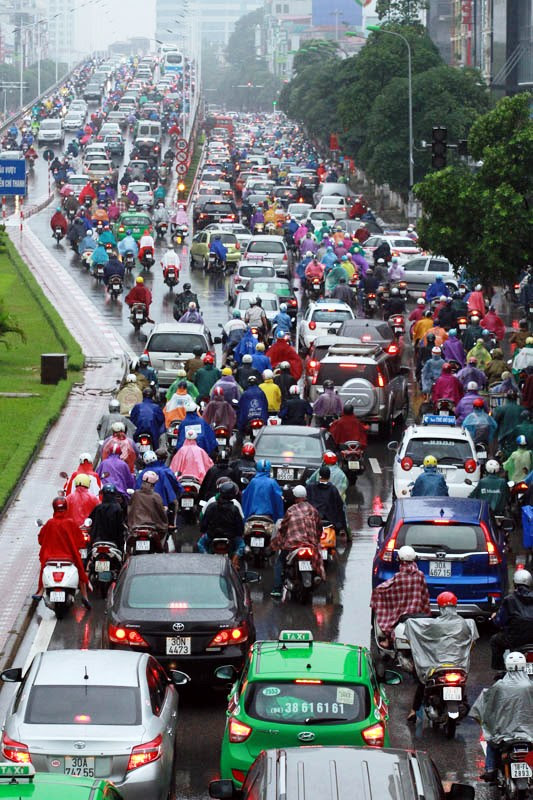 Traffic congestion in Hanoi.
Chairman of the Ha Noi People's Committee Nguyen Duc Chung made the request during an online conference on Monday that included Government members and representative of the country's 63 provinces.
Chung said there were from 18,000 to 22,000 new private motorbikes and 6,000 to 8,000 new private cars on the city's roads each month that had added to congestion.
The situation will get even worse in 2018 when imported cars will no longer be subject to high taxes and used by more and more local people.
"With this rapid increase of individual vehicles, in 2020, there will be a million cars and seven million motorbikes," Chung said.
"In the next four years, traffic problems in Ha Noi will become more complicated," he added.
Traffic congestion was on top of the agenda at a conference held by the Ha Noi People's Council early this month.
Nguyen Quoc Hung, deputy chairman of the city's People's Committee, said the situation would worsen if residents did not respect traffic regulations and not enough investment was put into infrastructure.
During the conference, the People's Council agreed on a project that will cost an estimated VND2,2 billion (US$91,000) aimed at reducing traffic congestion.
The Ha Noi People's Committee said it would spend VND700 million to set up the project, aiming to reduce the number of personal vehicles in the city in 2016.
VNS