Vietnam will seek to boost the use of public transportation and limit driving personal vehicles in urban areas by 2020, Minister of Transport Dinh La Thang said on Tuesday.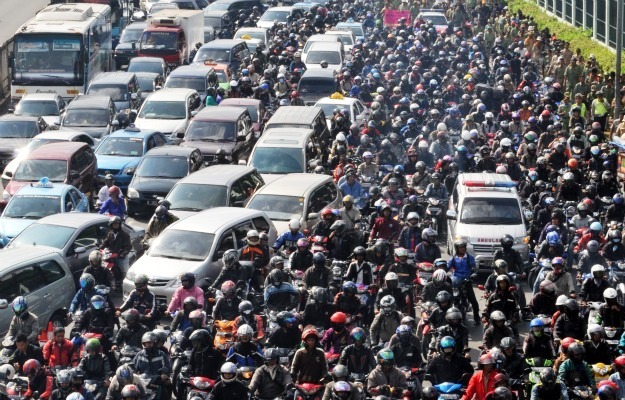 Traffic jam in Hanoi.
The minister announced at a Government meeting with local authorities that the Ministry of Transportation had undertaken a project to confront traffic congestion in big cities across the country, focusing on the significant use of public transportation.
He also stressed the development of a project based upon local conditions in each city and urged local authorities to suggest solutions for their transport plan so the MoT could effectively co-operate with them in carrying out the project.
Earlier yesterday, Chairman of Ha Noi People`s Committee Nguyen Du Chung complained about the increasing speed of vehicles threatening the capital city with congestion, saying that if there was no solution now, within 4 to 5 years traffic problems would become increasingly complex.
Speaking during the online Conference of Government to implement resolutions of the Parliament on the tasks of socio-economic development and State budget estimated for 2016, City Chairman Chung had put two proposals to the Government.
An estimate of 18,000 to 22,000 motorcycles, and an addition of 6,000 to 8,000 cars, have been newly registered in the city.
Chung said with such high rates of increases, the city will have nearly 1 million cars and 7 million motorcycles in 2020.
This would be a disaster for the traffic system in Ha Noi, the chairman suggested.
To cope with such situations, the city authority proposed ministries, departments and agencies coordinate with Ha Noi to limit personal transport to reduce traffic congestion.
Also at the meeting, Chung recommended the government review and approve drainage planning systems, along with the Red River dike to be operated by local management and plan for exploitation outside the dike.
VNS