VietNamNet Bridge – Minister of Justice Ha Hung Cuong has approved a project to support Vietnamese children adopted by foreigners in searching for their origins and visiting their native places.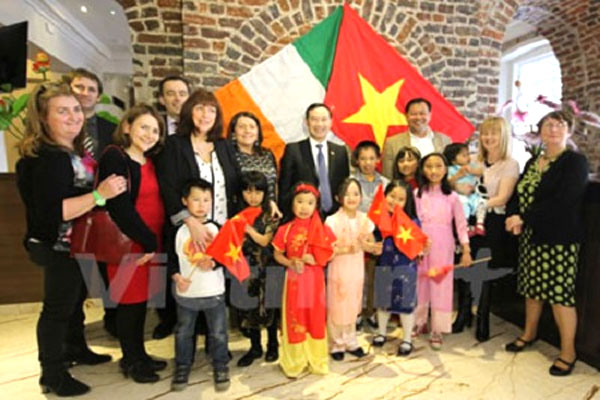 Ireland families adopt Vietnamese children. – Photo: VNA/VNS
The move aims to concretise Viet Nam's Law on Adoption, passed in 2010, and international conventions that the country has signed. It is also expected to help adopted persons maintain connections and the national character.
Under the project, the ministry will organise a trip for Vietnamese children adopted by French citizens to Viet Nam next August. More such trips are expected to be organised later.
This is the first time the government is organising such visits for Vietnamese children adopted by foreigners.
A ministry representative said it was necessary to carefully organise visits to the native places of adopted children, as these could leave a negative impact on them while meeting biological parents and relatives.
The adopted children usually visit their biological parents and native places by themselves and in some cases, both parties are unprepared psychologically for the visits.
Another part of the project is to computerise information about adopted Vietnamese persons and their origins.
A digital database is expected to make it easier to search for information.
According to the justice ministry, almost all the information is on paper currently, raising the possibility of them getting damaged or lost. It also takes a lot of time to look for information.
Moreover, any information relating to their origin needs to be clarified carefully with local authorities before being provided to the adopted persons.
The clarification takes time, and sometimes it is not possible to get results because the responsibility of the relevant agencies is not clear as of now.
According to the ministry's department of adoption, 498 Vietnamese children were adopted by foreigners last year and 334 in 2013.
VNS