VietNamNet Bridge – To hundreds of unfortunate children and young women in the central province of Quang Nam, successful American entrepreneur Robert Kalatschan and his family are more than donors, who have provided free accommodations, education, medical care and food. For they have also brought love and happiness to the less fortunate.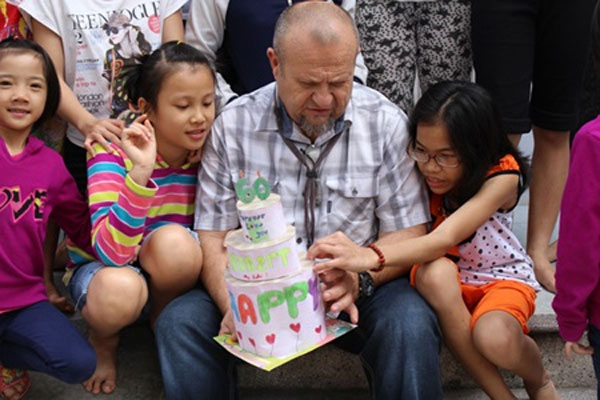 Father figure: Robert Kalatschan poses for a photo with unfortunate children who benefit from his projects.
Coming to Viet Nam more than 60 times in the past 13 years after adopting two Vietnamese children, Kalatschan has taken in many more children here – and he has found meaning for his life.
The couple adopted the first son in the US, who is of Vietnamese origin, and soon afterwards adopted another daughter from a social centre in downtown HCM City.
"When I was in Viet Nam to look for my daughter, I visited many social centres and homes for handicapped children… When I returned home, I was really haunted by the children's faces, realising that they did not have the opportunity that my daughter had," he recalled. "Two weeks later I told my wife that we should do something for them. And my wife said 'yes'."
Then the fairytale started with the creation of their Giving It Back To Kids Foundation, established in 2002 in the central city of Da Nang.
To date, the foundation has set up six homes to support needy children, young adults and single mothers in its New Hope project in central Viet Nam.
"All homes provide a safe place for children, young adults, and unwed mothers to live in and study," their website says, "In addition to the unique goals of each home, all residents are provided with meals, clothing, and supplies. Live-in care givers staff the homes 24-hours a day and are accepted as family by the children."
"What makes us a little different is that we are trying to create a relationship with the children; not only caring for them, but helping them to be all the things that they can be," Kalatschan stressed.
Nguyen Cao Hoai Anh, a child living at the home, said her grandmother sent her there when she could not afford to raise her after her parents separated.
"Here, all of us love one another like brothers and sisters," she said, "We have everything from food, clothing, education, entertainment… We often write letters to daddy Robert, and he cares a lot for us. I want to follow Robert to do charity work when I grow up."
According to Nguyen Thi Minh Lanh, who works as a manager at one of the homes, children here have been sent to schools to study and have been taught to control their anger and learn of their true values.
"When they first enter our house, many of them have experienced both physical and spiritual pains that affected their psychology, so we have tried to treat their pains and give them back their innocent childhoods," she said.
The Father's House is one of the project's special homes for single mothers. At present, the house hosts six mothers and six babies, though the house has hosted 53 babies since opening.
The house offers a safe home to lonely, single, expecting mothers, who are rejected by their families or villages.
They will be taken care of, and given sufficient nutrition and medical services for six months after they gave birth to their babies. In case the young mothers cannot afford raising their children, the house works with local authorities to find the children a safe home.
The project also encourages young mothers to enroll in vocational training so they might find stable jobs to allow them to raise their children.
"We call it a Father's House because it's what a good father would do for his daughter," Kalatschan said.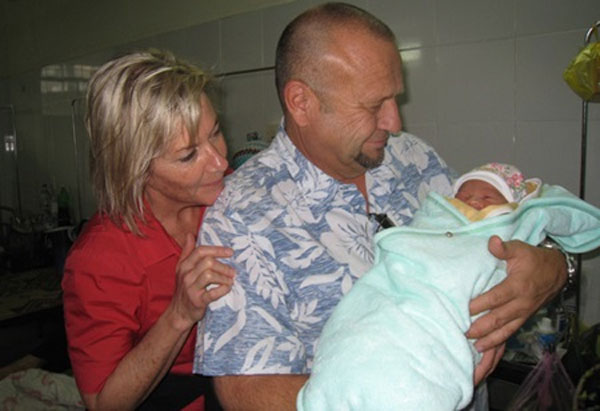 Loving couple: Robert Kalatschan and his wife Dorothea pose for a photo with a newborn at the Father's House – a special home for misfortunate single mothers. — Photo courtesy of Giving It Back To Children Foundation
The Foundation also offers basic medical care at little or no cost to needy children.
Also, more than 500 children have received free heart surgeries at the Da Nang Hospital, as part of the programme.
"We have seen poor children with heart troubles who had medical emergencies when they were brought here," said doctor Phan Dinh Thao from the Da Nang Hospital, "Yet, with the valuable support from the Giving It Back to Children Foundation, many of them have returned home healthy. We highly appreciate such assistance and wish to receive more so we might cure more children."
Additionally, more than 110,000 free wheelchairs have been given to needy people throughout the country.
"We provide wheelchairs to not only children, but also adults, when children live in a family with disabled parents or grandparents and the children have to take care of them. So we bring mobility to the recipients, as well as freedom to the children," Kalatschan said.
The charity has become one of the most reputable charity foundations in the central region of Viet Nam.
"Running the foundation is like running a business, in many ways. We don't do things we don't have funds for, or at least see a way for them to come in," Kalatschan said. "Clear business practices, trust in God and great donors have all helped us overcome obstacles."
"We do have some big donors, companies that donated to us, but most of our support comes from everyday people," Kalatschan added.
His wife, Dorothea Kalatschan, recently passed away. He now spends three to four months each year with the project and also inspires his adopted Vietnamese daughter, Kristina Kalatschan, to love her motherland.
"My father has a very soft heart and a very strong will," noted Kristina, "He inspires me everyday. He's a committed man."
She said that she would like to become a doctor, or work for Giving It Back to Kids.
Kalatschan said he has already begun setting up two homes in Cambodia.
"We hope to continue building, while being confident not to become stretched too thin. One thing we need to know are the actual needs and the culture of the area. All this takes time," he noted.
by Le Huong
Source: VNS