Prime Minister Nguyen Tan Dung has decided to support 19 provinces across the country which have been affected by drought and salinity intrusion with VND284.5 billion (US$12.7 million) in aid.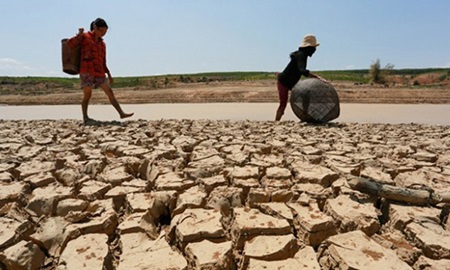 The aid which came from the State budget, will be used to address the consequences of acute drought and saltwater intrusion affecting the 2014-2015 winter-spring crop and 2015 summer-autumn crop.
Two northern provinces, along with ten central localities and another seven in the south, will receive between VND5.5 billion and VND30.7 billion ($244,000 to $1.36 million) each.
Among all the provinces, northern Thanh Hoa Province and central Quang Binh Province will receive the highest aid with VND30.7 billion ($1.36 million) and VND26.8 billion ($1.19 million), respectively.
Local people's committees are being urged to use the local budget and other legal financing resources to ensure effective implementation of measures to cope with the drought and saline intrusion.
The Ministry of Agriculture and Rural Development also asked Khanh Hoa province to submit a report specifying the varieties of plants and a number of seeds needed for the resumption of production.
According to the National Centre for Hydrometeorology Forecast, the El Nino phenomenon continues to affect the country with escalating intensity and is likely to become one of the most prolonged in the last 60 years. The monsoon season is forecast to arrive late and end early. Total rainfall will decline severely compared with the average of previous years, especially in the Central, South and Central Highlands' areas.
In the last months of 2015 and early 2016, the total flow of the Mekong river delta region is forecast to decline between 20 and 40 per cent, hence, in the early months of the dry season in 2015-2016, the water level of the Mekong River is low and influenced by tides. Salinity at the Southern estuaries is estimated to arrive earlier and more severely than last year. The provinces of Long An, Tien Giang, Ben Tre, Tra Vinh, Soc Trang will be influenced by saline intrusion from the end of November this year.
To prepare for the situation, Deputy Prime Minister Hoang Trung Hai has requested the provinces to map out plans against drought, especially from winter to spring in 2015-2016 and from summer to autumn in 2016.
VNS