The Civil Aviation Authority of Viet Nam (CAAV) has asked that Tan Son Nhat International Airport widely publicise airport hotlines to better serve travelers at the country's largest airport, recently rated among the world's worst by a travel website.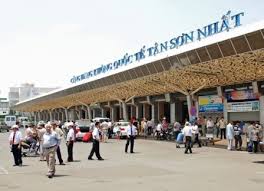 Lai XuanThanh, head of CAAV, said it would continue to improve its service, especially at Tan Son Nhatairport, by receiving feedback from customers via many channels, instead of only supervising various company units at the airport.
Thanh said Vietnamese airports must improve even if there was only one passenger complaint.
Transport Minister Dinh La Thang said Tan Son Nhat airport played an essential role in creating a positive image for the country.
Airport officials at a meeting held recently in HCM City discussed measures to improve services with international airlines and service providers.
Dang Tuan Tu, director of the Tan Son Nhat Airport Authority, said the domestic terminal was overloaded by 20-30 per cent as it handled over three million passengers a year.
Under the circumstances, the airport could only provide basic services, he added.
Speaking about complaints about the poor wifi service at the airport, he said the contractor had been ordered to change the network by the end of this year.
He said that toilets would be checked regularly and hygienic standards raised.
He said the CAAV had asked the Ministry of Transport to improve the integration of customs and security formalities.
The CAAV had received approval from the Finance Ministry and is waiting for approval from customs.
Tran Doan Mau, director of the Southern Airports Authority, urged service providers at the airport and carriers to deploy more staff to handle the increasing number of passengers.
He said the goal was to take Tan Son Nhat out of the list of worst airports and ensure safety.
Travel website sleepinginairports.net this year rated HCM City's airport the eighth worst in the world.
Corruption
According to the website, Tan Son Nhat's status has deteriorated further due to allegations of corruption.
Many survey respondents reported that customs officers ask for bribes in order to move through the process faster, and those that declined paying quickly faced problems with their paperwork.
Lai XuanThanh, head of CAAV, has said aviation authorities would review the problems facing the airport and find ways to improve the situation as soon as possible.
Passengers are encouraged to report complaints about any harassment or money extortion to hotlines (+84) 988 315 858 (Nguyen ThanhBinh) and (+84) 925 267 777 (Nguyen Van Lich).
Last year, the site listed Ha Noi'sNoiBai Airport, Viet Nam's second largest international airport after Tan Son Nhat, among the worst in Asia.
The NoiBai Airport Authority director issued a public apology and pledged to improve quality.
NoiBai not only got out of "Asia's worst" list this year but was listed as one of Asia's 30 best.
Da Nang International Airport was also named among Asia's 30 best airports this year.

VNS