VietNamNet Bridge - The Ministry of Transport will establish a joint working group to thoroughly review and assess the current status and all stages of operation of Tan Son Nhat, the airport with the highest number of passengers in Vietnam.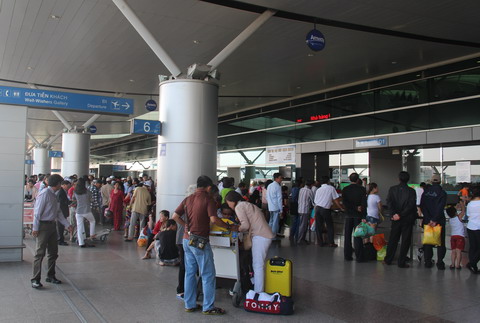 At a meeting to discuss solutions to improve the quality of services at HCM City's Tan Son Nhat Airport on Monday, Lai Xuan Thanh, Director of the Civil Aviation Administration of Vietnam (CAAV), said Tan Son Nhat Airport has become overloaded. 
The current infrastructure has not met passenger growth. In 2014, the airport served 22 million passengers and the number is expected to reach approximately 26 million this year. As the airport is narrow, its space is very tight during peak hours and it has no space for arranging sleep-boxes.
in addition, the airport is undergoing renovation and expansion projects, which affect its operation. Congestion on the runways causes flight delays and congestion at check-in and check-out stalls. Wifi service is poor while hygiene at toilets in the peak time is under the required standard. The airport also lack signposts for the restaurant system and theft is still a problem.
According to Thanh, all of these problems will be solved in the coming time. A project to expand the aircraft parking area will also be carried out. Anti-corruption measures will be taken at the customs unit. The attitude of airport staff will be improved.
The Minister of Transport Dinh La Thang said that Tan Son Nhat Airport did not get compliments from passengers because of lackd of organization and personnel problems. He agreed with the establishment of a joint working group to review and assess the situation of each stage from ground to sky, from inside and outside the airport.
"We must see that Tan Son Nhat reflects the image of the country, of HCM City, and of the transportation sector. We are responsible to improve the image day by day," the Minister said.
According to the 2015 rankings of the website The Guide to Sleeping in Airports, Tan Son Nhat is ranked 4th on the list of the worst airports in Asia. Last year Tan Son Nhat was on the same list.
Tan Son Nhat airport was upgraded last year but it was still among the worst airports in Asia this year. The infrastructure of the airport has deteriorated in recent years and some passengers reported that customs officials demanded bribes if they wanted faster customs clearance. Passengers also complained about weak wifi signals, dirty toilets and limited choices in restaurants, according to The Guide to Sleeping in Airports 
Meanwhile, Noi Bai International Airport in Hanoi ranks 28th of the 30 best airports in Asia. Last year it was on the list of the worst airports in the region.
Xuan Tung