VietNamNet Bridge – Services at HCMC's Tan Son Nhat Airport have been improved considerably but still get the thumbs down from many passengers as facilities of the airport are overloaded, according to the airport's director Dang Tuan Tu.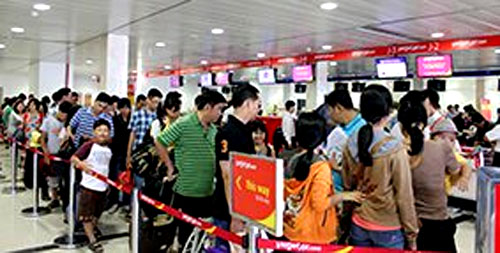 A long line of passengers wait for check-in procedures at Tan Son Nhat Airport. Many passengers complain about services at Tan Son Nhat, the nation's biggest international airport – Photo: Anh Quan
The Southern Airports Authority (SAA) has worked with service providers at Tan Son Nhat Airport over solutions to improve services after the biggest international airport in Vietnam was ranked Asia's fourth worst airport by travel website The Guide to Sleeping in Airports.
Tu said with the strong growth in the past years, the airport would serve 25.7-26 million passengers this year while its international terminal's expansion by an additional 6.3 hectares would not be completed after 2016.
According to Tu, the airport's domestic terminal is overloaded as it does not have separate departure and arrival halls.
Motorcycle parking is also to blame for poor service. The existing parking lot can house 4,000 bikes and cannot be further expanded. Sometimes the place is full and cannot take in more bikes.
"With annual growth of 15% and three million more passengers going through Tan Son Nhat, the number of passengers at the airport will reach 30 million in the next two years," Tu said. "Customers will have to suffer overload for at least eight more years when phase one of Long Thanh Airport is ready."
Asked to comment on Tan Son Nhat's being ranked as one of the ten worst airports in Asia, Tu admitted this was somewhat accurate. He ascribed the poor wifi signals to the large number of users, saying the airport would sign a new wifi supplier within the year.
Concerning the dirty restrooms travelers complained about on the travel site, Tu said the restrooms were not as bad as described on the site as they got dirty when there were too many passengers coming at a time.
Passengers also complained about a limited selection of restaurants but Tu said this was not accurate as restaurants occupied 45% of the non-aviation space of the airport's two terminals. Passengers might not have known there are some restaurants upstairs at the international terminal.
However, Tu mentioned other inadequate services at the airport like chaotic taxi services, overloaded parking lot and unfriendly airport and airline staff.
Talking about service quality, Nguyen Dinh Hung, director of Saigon Ground Services Company (SAGS), said the problem at Tan Son Nhat's international terminal was that passengers had to fall in long lines for entry, customs and security check procedures in three different places.
"This affects the overall service quality of the airport," Hung said.
According to Hung, immigration and customs officers should be deployed at one place, instead of two different places that are closely apart. Besides, the airport should be equipped sleeper seats and more TV screens for passengers to relax while waiting for their departures.
A representative of Tan Son Nhat International Airport Ground Services (TIAGS) suggested reducing the number of passengers at check-in counters by encouraging online checks-in.
Regarding the complaints that customs officers at Tan Son Nhat ask for bribes from passengers if they want to complete procedures quickly, Tran Duc Minh, deputy head of the airport's customs unit, said, "This is a sensitive issue. We do not tolerate corruption."
SAA director Tran Doan Mau said the Ministry of Finance already agreed on combining customs and security procedures. Relevant units at the airport would work on it when the official document was issued, he added.
Besides, Tan Son Nhat should try to improve its ranking next year, he said.
SGT