VietNamNet Bridge – In the past few days HCM City was covered with fog until noon. Meteorological experts called it "dry fog," caused by air pollution.
High-rise buildings were covered by "dry fog" from morning till 2pm. 
Fog appeared on Monday and Tuesday (Oct. 5-6) from early morning until noon in the Districts of 1, 2, 4, 7, 9, 12 ... On the Saigon River, the opaque air layer covered the water surface. People who stood on the shore could not see boats moving on the river.
On Tuesday morning, dense fog appeared in most of the districts in the city, restricting the vision of drivers. The high-rise buildings along the Saigon River, the bridges of Thu Thiem, Phu My, and the roads of Pham Van Dong and Nguyen Van Linh were obscured by fog until 1-2pm.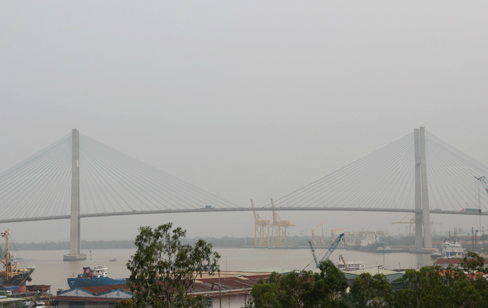 The Phu My Bridge connecting District 2 and District 7 at 2pm. 
Deputy Director of the Southern Hydro-meteorological Station, Dang Van Dung, said this phenomenon appeared in not only HCM City but some Southern provinces on Oct. 5-6. 
If this phenomenon occurs in the early morning when the humidity is over 90%, it is called wet-fog, It is named dry fog if it appears after 8-9am, when the humidity is below 75%.
"The dry fog is created by polluted air and smoke layer near the ground. On the day of weak wind, the dust is not dissipate but accumulates," Dung explained.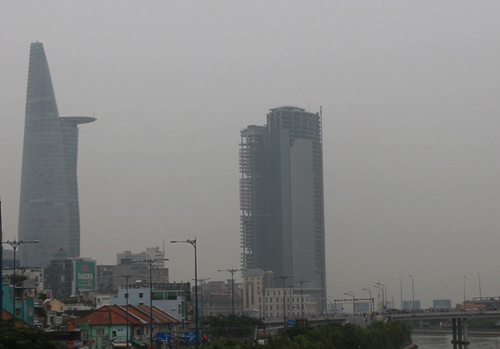 HCM City's Bitexco building in the dry fog.
Dung said, due to the southwest wind being weak, this phenomenon will persist for the next few days. 
"Dry fog will cause limited visibility and it can also affect your health. So people should wear masks on the street. Children whose resistance is weak will be vulnerable to respiratory diseases," Dung added.
However, some experts confirmed that the phenomenon was caused by forest fires in Indonesia.
According to the HCM City Environmental Protection Bureau, air pollution in the city is increasingly complex. Up to 89% of air samples have not reached standards. The cause of air pollution in the city is mainly caused by vehicles. 
Dry fog in HCM City in the afternoon of October 6.
Photo: Zing
Thu Ly