VietNamNet Bridge – The section of the Hong (Red) River that runs through Ba Vi District is now full of dredgers exploiting sand both day and night, but district authorities have failed to do anything about the illegal dredging.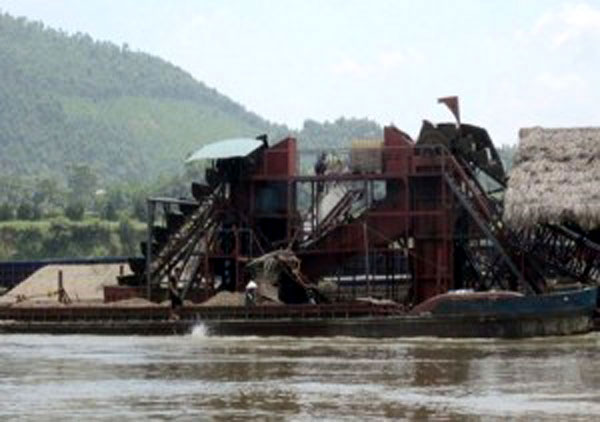 Illustrative image -- File photo
A month ago, a sand mining barge appeared on the river, followed by six more barge, Tien Phong (Vanguard) newspaper reported. Authorities in Minh Chau Ward instructed the dredgers to cease work, but they ignored the order.
The non-stop dredging has turned the river into a construction site, Nguyen T.B, a Minh Chau ward resident said, and some of the boats are disguised with fishing nets to elude authorities.
According to residents, many of the dredgers belong to people from the northern provinces of Tuyen Quang, Phu Tho and Vinh Phuc.
At the end of last year, the director of Viet Xuan Moi JSC submitted documents to ask for permission to dredge the riverbed.
Nguyen Van Linh, secretary of the Minh Chau Ward Party Committee, said that no-one was allowed to dredge sand from the river section crossing the ward.
However, the company still sent two dredgers to work on the river.
Waterway traffic police had inspected the site, but left immediately, said T.B.
Police in the ward were not authorised to punish the dredgers, and although the case had been reported to district authorities, little was being done, he said.
On June 17 this year, around 20 residents headed to the People's Committee of Ba Vi District to protest against the illegal operations. At about 7.30pm the same day, the sand miners halted operations, but resumed work only two hours later.
Some areas along the Red River have been warned about the risks of mudslides, especially during the rainy season.
"Sand dredging can cause banks to collapse and change the flow of the river during the rainy season, putting people at risk and damaging dykes and riverside structures," said Pham Ngoc Tien, deputy head of Ha Noi' s Waterway Traffic Inspectorate.
Regulations on prevention and control of floods and storms regulates that studying, exploiting and assembling sand and gravel in the riverbed must halted from May 15 to October 30 every year to avoid negative impacts during the rainy season.
VNS