VietNamNet Bridge – Thousands of people in the southern province of Dong Nai were hit last week by the worst flooding in 20 years.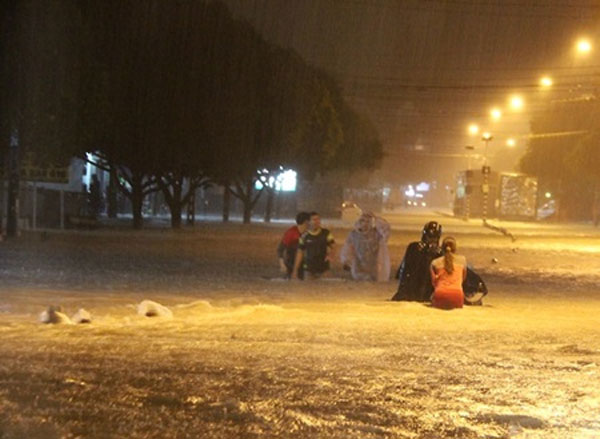 Thousands of people in the southern province of Dong Nai were hit this week by the worst flooding in 20 years. — Photo: VNE
The situation was exacerbated by the loss of lakes and ponds that have been filled as rapid urbanisation gets underway – and by illegal housing narrowing down local streams.
Three days of non-stop, heavy rain started on Tuesday evening, severely flooding Bien Hoa City in the heart of the province.
More than 20 streets in the city were flooded to a depth of up to 80 centimetres, including Dong Khoi, Nguyen Ai Quoc and Nguyen Phuc Chu streets.
Highway covered
The water rose to 1.5 metres on National Highway 51 in suburban Phuoc Tan commune.
Residents in at least 400 homes in Trang Dai, Tan Hiep, Tam Hoa and Tan Phong districts had to stay up all night Tuesday and Wednesday moving their furniture to higher levels to escape the water.
Heavy rain continued yesterday, washing away the Ba Cai Bridge over the Buong River in Phuoc Tan commune. This cut off about 2,000 students from their schools on the other bank. "Although there is another road to the communal centre, it is five times longer," said Mieu hamlet Party Secretary Hoang Thi Khanh Duong.
A report by the Dong Nai Department of Agriculture and Rural Development said that 10 hectares of vegetable fields in Bien Hoa City were destroyed by the floods and rain, causing losses of nearly VND1.8 billion (US$80,000).
Questions about the drainage capability of Bien Hoa City surfaced after the flood. The downpour up to 11:45pm on Wednesday night amounted to 165 mm, said the director of the province's Hydro-meteorological Centre, Nguyen Phuoc Huy.
He said inefficient drainage and the filling of lakes and ponds to make way for roads and buildings in Bien Hoa added to extreme flooding.
Further illegal housing is creeping along streams such as the San Mau and the Ba Lua which flow into the Dong Nai River. The streams are getting narrower and narrower.
A highly controversial urban development on the Dong Nai river bank was stopped in March, but experts believe that if it resumes, it will also contribute to the flooding.
Before it was stopped, the project involved pouring tonnes of rocks and sand into the river to create new residential land.
VNS