VietNamNet Bridge - Each month Hanoi has an additional 19,000 new vehicles, posing great pressure on urban transport, said Colonel Dao Bay Thang, Head of Hanoi Traffic Police Agency.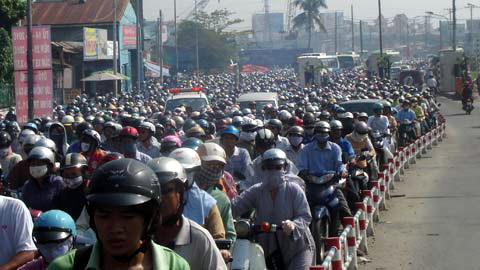 Thang said the number of private vehicles was growing very strongly in the city. In the period of January-August 2015, Hanoi had 183,000 new vehicles, including over 39,000 cars and 143,000 motorcycles, bringing the total number of vehicles to 5.5 million (almost 535,000 cars and more than 4.9 million motorcycles). There are also a lot of vehicles registered in other provinces but used by Hanoi residents.
Traffic congestion has become more severe because of 25 projects on the road.
Nguyen Van Thach, Head of the Traffic Safety Department of the Ministry of Transport, said Hanoi and HCM City are facing a rapidly increasing number of personal vehicles while the development of infrastructure facilities has not kept up at the same pace.
Thach said until 2018 when the two urban railway routes in Hanoi are completed, the traffic situation will be improved. At that time, the city should take measures to restrict personal vehicles and encourage people to use public transport.
"People should have sympathy with the transport sector. Initially, Hanoi can restrict the growth of private cars by raising some taxes and registration fees as proposed by Ho Chi Minh City," Thach said.
Mr. Than Van Thanh, deputy chairman of the Vietnam Automobile Transportation Association, said that traffic congestion showed that urban traffic management of cities has been inefficient.
He said that because of a shortage of parking space, Hanoi has to use part of the road as parking lots. The implementation of urban railway projects is sluggish, there is a lack of signboards on the roads, and traffic organization is not good, making it difficult for vehicles.
Thanh said the increasing number of personal vehicles is natural. If the state wants to reduce private vehicles, it must develop public transport to serve the people.
"Nobody wants to use personal vehicles if public transportation is convenient. The authorities should have the right perspective on urban management, and should not blame the increase of individual vehicles," Thanh said.
Phung Le