VietNamNet Bridge – To the Arem people in Quang Binh Province, the forest is a treasure that could sustain them for generations, so they protect it with diligence - while enjoying TV and music on their smartphones. Hoang Nam and Trung Hieu report.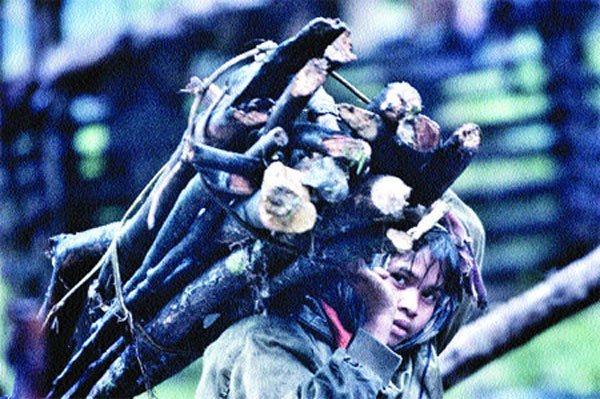 Forest keepers: When the Arem face financial difficulties, they cut some branches from sua trees to sell, but not too many because they're protecting the sua forest, which they consider a treasure. — VNS Photo Viet Thanh
The Arem people were found living in a cave in the central province of Quang Binh in 1956, but for various reasons, they kept returning to the cave repeatedly, even after officially settling in Thuong Trach Commune of Bo Trach District in 1992.
When the border guards had found the Arem, the group had about 100 people only.
The Kinh (Vietnamese majority) officials who helped settle the Arem at that time recalled that after settling in the village, whenever they would see the officials, the Arem would hide as they did not want to meet outsiders.
Even their commune chief, Dinh Du, once hearing that the provincial Party Secretary was coming to visit them, had fled into the cave. After officials found him, and asked him why he had fled, he said, "I am afraid of meeting high ranking officials."
They were unfamiliar with even the simplest farming tools. Officials gave them hoes for farming, but they left these in a corner of the house or started using them for other work.
They did not know how to cook. They did not even like to live in houses, and instead, dug underground shelters in their gardens to live in.
"To tell the truth, we all wanted to live in caves, we were used to that, but we respected the officials and therefore chose to stay. But we had to dig shelters to ease our nostalgia for caves," said village elder Dinh Rau.
Hidden treasures
Different from the Arem elders who only liked caves and felt refreshed only when entering the forest, the young Arem now love mobile phones and motorbikes the most.
They love these luxuries so much that they can even sell their cattle in order to own a handset with colour display.
The way they use mobile phones is so special – not to contact each other, but to watch movies and listen to music.
Some lowland people know this taste of the Arem, and therefore they help them download a lot of music and movies, taking such music and movie loaded phones to the Arem village to exchange them for cows or buffaloes.
To ensure that their mobile phones keep working, the Arem youth use small batteries to connect with their phones' charger.
So, almost always, the phones are connected to a cable that connects to the batteries they carry in their pocket.
Their phones stay on most of the time, as the Arem listen to music or watch movies all day long.
If some young people gather at one place, it becomes a sort of a chorus with everyone trying to play the music or movies on their phones as loudly as they can. It is almost like a "caste", a hierarchy of who is the loudest.
Dinh Khinh said he was one of the first Arem who used a mobile phone after selling a bull.
"I bought the phone just because I liked movies and music, and I do not and cannot use it to call anyone," he said.
About the Arem
The Arem are a small indigenous group of the Chut ethnic people.
Among the Chut, the Arem group and the Ruc group are the smallest. They are also two of the smallest groups in comparison with all the other ethnic groups in Viet Nam.
The lives of these two ethnic groups are relatively similar in production, customs and way of living. Their lives are still pristine, largely based on shifting cultivation, hunting, gathering and fishing.
The Chut were identified in 1954. Other members of the Chut people include May, Sach, Ma Lieng, Xo Lang and U Mo groups.
About 3,600 Chut live in Quang Binh Province, while 150 more live in Ha Tinh Province. Their language belong to Viet-Muong language group. The language's origin is very close to Viet and Muong.
Khinh explained that, living in this remote village, they can hardly catch the mobile phone signals, so they can only use the device to listen to music and watch movies. It is a habit that has become almost an "addiction."
"We cannot go anywhere without the mobile phone accompanying us," he said with a smile.
The Arem began to use motorcycles five years ago. That was the time when, after a big flood, valuable timber was washed away in flood waters and got stuck at a small stream near their village.
The Arem sold the timber, and each family came into possession of tens of millions of dong. They bought old motorbikes from the lowland, but did not know where to go, so they just use the bikes to run around in the village.
From more than 10 bikes at first, now they have several that are still in use, and they all release black smoke whenever the ignition is on.
Most of the bikes are in a bad shape because their owners did not maintain or repair them.
The motorcycles are currently not owned by any person, so anyone who has money can pour some petrol into the tank and ride. When the bikes run out of fuel, they leave them unlocked under the house-on-stilts. Nobody has a driving licence.
Village elder Dinh Rau led us to visit a secret forest that the Arem considered the treasure.
It was an 8ha forest of sua (a kind of tree that provides precious timber for many purposes) that they have been protecting for many years.
The commune Party Secretary, Nguyen Chi Sy, said the forest was planted by his predecessor Phan Thanh Binh to benefit the villagers.
"Now each tree can fetch up to a few hundred of millions dong, but the Arem villagers do not sell these because they remember what Party secretary Binh advised them earlier."
Village elder Rau said, "Party secretary Binh told us that if we ever face hard [financial] times, we could cut some branches to sell, as these trees would feed the villagers forever."
The forest is protected by villagers who do not allow outsiders in because they are afraid of poachers.
Sy said he believed this forest would bring prosperity to the Arem for a long time to come.
"The Arem now know how to grow wet rice and live a better life, thanks to officials like Party secretaries Binh and Sy," said Phan Van Gon, Party Secretary of Bo Trach District's Party Committee.
Even as Sy's working term at the Arem region ended, he volunteered to continue to stay because the villagers liked him and did not want him to leave, Gon said.
VNS