VietNamNet Bridge – There are many paths for young adults to follow in their early twenties. Some grab a backpack and venture out to explore the world. Others risk investing in their own businesses. But possibly the most rewarding experience is for those who devote themselves to underprivileged people.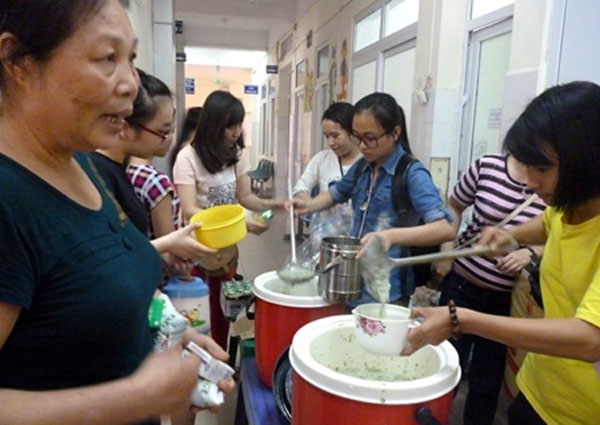 Members of Am (Warmth) giving hot bowls of porridge to parents of paediatric patients at the National Hospital of Acupunture. Many kind-hearted youth find meaning of their lives by devoting themselves to underprivileged people. — Photo Khanh Duong (VNS)

Twisting balloons into different shapes and sizes, 21-year-old Nguyen Mai Phuong, a senior at the Viet Nam Trade Union University, was surrounded by a dozen children. On a scorching hot summer day in Ha Noi, her face was sweating but sparkling with a bright smile.
Every Sunday morning at 10am, parents and children from the pediatric ward at the National Hospital of Acupuncture on Thai Thinh Street welcome the arrival of a group wearing black t-shirts with the name Am (Warmth) on their backs.
They arrive at the hospital carrying toys, snacks and hot bowls of porridge to give to children suffering from cerebral-palsy.
At 7am every Sunday morning, young members from Am gather at a house on Cu Chinh Lan Street. Some go to the market to buy ingredients, while others are in charge of cooking.
Phuong joined Am one and a half years ago when she was a second year student. Since then, she has taken part in the group's activities every week. She is now the longest serving member of the group.
In the other corner, Dao Thi Thuy Ngan, the group's leader, was ladling porridge into a big bowl. Each child she meets leaves a lasting impression on her. She talked about a naughty boy who suffers from cerebral palsy.
"He cannot move his body but he told me he could sing. Then I taught him a song. Every time I come, he calls me and sits next to me. I feel warm and love playing with children," Ngan said.
Among the young volunteers, Vu Trung Anh chose a different destination. Pavements, street corners parks and under bridges are where his group head to every Saturday night.
They come to give food, drinks and mosquito nets to homeless people sleeping on the streets of Ha Noi, even when it is raining or bitterly cold.
Every week, they find areas in Ha Noi where homeless people shelter, and post a detailed plan on Facebook to call for volunteers and donations.
"We bring them food and share stories to understand their mental and emotional needs," said Trung Anh.
Giving means
Being the leader of a voluntary group, Ngan faces a number of challenges. For example, new volunteers might not show up if it is raining, so she has to allocate the work to a limited number of people.
"These difficulties have helped me to grow up," she said.
The experience has helped her to calm down and deal with pressure, as well as learn how to manage their budget.
Having experienced nightlife in Ha Noi, Trung Anh understands how hard it is for poor labourers and homeless people.
One of the main difficulties his group faces is that homeless people are often reluctant to share their circumstances because of shyness or a feeling of inferiority, and sometimes they don't trust the young people who are there to help them.
"I always encourage other volunteers to approach and talk to them like their friends or family. I have learned how to communicate with strangers and homeless people who are very vulnerable."
Talking about his so-called second family, he said he had be given the chance to make some wonderful friends whose kindness and enthusiasm had motivated him lot to continue the work, especially during hard times.
"If you give without expecting to receive, you will be amazed at the invaluable experiences you encounter," he said.
Attitudes change
At first, Phuong did not tell her parents that she was going to the hospital. When her parents found out, they were worried that the early morning and late nights would detract from her university studies.
Phuong confessed that during her first year at university, she only focused on her studies without taking part in any extra-curricula activities. From a reserved and quiet girl, she now feels more confident speaking in front of crowd.
For a short time, she stopped going to the hospital on Sunday mornings and stayed at home to help with the housework, but her mother had noticed the transformation in her daughter's personality, and asked why she had stopped going to the hospital.
"My mother noticed how I had changed, so she no longer had a problem with my work. She actually encouraged me to go back to Am."
Starting a busy new school year as a final-year student, Phuong said she would continue to visit the hospital every Sunday.
Recently, the media has been flooded with negative stories about young people such as a 19-year-old boy beating a 78-year-old man after a traffic collision, and a video of a teenage girl riding her motorbike on a pedestrian street in the Old Quarter that went viral.
When asked about youngsters' lifestyles nowadays, Hanh, a woman who lives near the hospital said: "All vegetables have worms, but there are still many young people who do charitable work for disadvantaged people. These contributions by kind-hearted youngsters are worthy of praise."
The mother of a paralysed child being treated at the hospital said there were many young people from clubs like Am who visited the hospital every week to give patients food.
"I really appreciate their bowls of porridge and kindness. This is one of the most delicious bowls of porridge we have ever had.
"Not all young people are obsessed with fashion, music and tabloid headlines, there are others who are ready to dedicate themselves to those less fortunate than themselves," she said.
Khanh Duong
VNS