VietNamNet Bridge – The use of illegal substances by pig farmers to stimulate growth or to produce lean meat has gone unchecked for years. However, the situation has worsened, sparking consumers' concerns over the harmful effects of those substances such as headache, anxiety, insomnia, nausea and hypertension.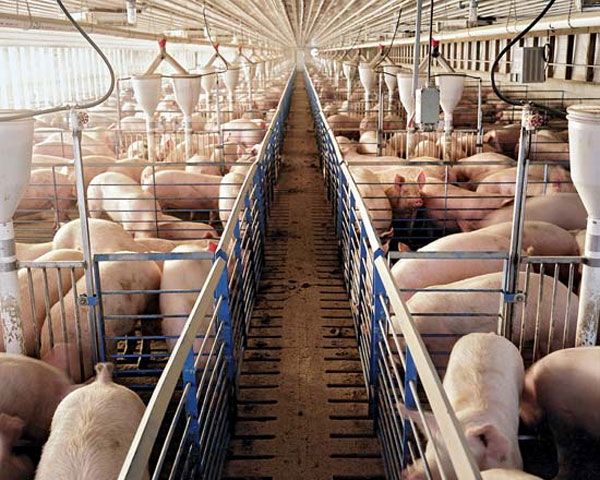 Illustrative image -- Photo: baodongnai.com
As reported by an inspection team of the Ministry of Agriculture and Rural Development at a press meeting on Monday, the use of banned substances in the pig farming sector is increasing, especially in the southern region.
Pham Tien Dung, an inspector at the ministry, says that of 227 pig urine samples taken from Dong Nai, Tien Giang and Long An provinces to HCMC in the first half of the year, 31 tested positive for residues of prohibited substances. The inspection team also found 14 farms in Dong Nai, the country's leading pork supplier, using banned stimulants.
Those substances were also found at certain farms in other provinces like Tay Ninh and Ben Tre.
Inspection results showed a couple of enterprises and traders who buy pigs from farmers used banned growth stimulants to achieve desired weight gain in a shorter period of time. Popular lean-meat substances are clenbuterol and salbutamol and they are often mixed with animal feed to reduce fat in pigs.
Thanh Nien quotes Pham Duc Binh, vice chairman of the Vietnam Animal Feed Association, as saying at a meeting in HCMC on August 26 that those banned stimulants, mainly imported from China, leave residues in pig organs, including liver and kidney, which do not disappear in the cooking process and are harmful to the health of those eating contaminated pork.
Nguyen Thi Phuong, a resident in Binh Duong Province's Thu Dau Mot City, is quoted by Sai Gon Giai Phong as saying that she does not know what pork is safe, so she opts for fish, shrimp, beef and chicken instead.
Loose coordination between law enforcement agencies is one of the reasons for the rampant use of forbidden growth and lean-meat stimulants at pig farms. However, many farmers said at a seminar held in Dong Nai Province on August 24 that it is traders who force them to either use banned substances or get low pig prices.
As explained at the seminar by Bui Thi Nhi, a farmer in Dong Nai Province's Thong Nhat District, the use of banned substances only benefits traders. "If farmers do not put stimulants into feed, pigs can still weigh 110 kilograms. Pig prices are a bit lower but revenues are higher," Nhi is cited by Thanh Nien.
According to Binh from the Vietnam Animal Feed Association, though lean-meat agents have long been banned but users of those substances face low administrative fines, just VND15 million per time.
Not only consumers but also farm owners who do not use illegal substances are affected. "The use of banned substances at pig farms affects both consumers and honest farmers," Tran Van Quang, head of the animal health department of the Dong Nai Province, is quoted by Thanh Nien.
Nguyen Quoc Thai, a farm owner in Trang Bom District of Dong Nai Province, says in Sai Gon Giai Phong, "As far as I know, prices of live pigs normally drop when there is news that some pig farms are fined for using forbidden stimulants."
As a result, specific preventive measures are expected to be introduced to stop the use of banned substances.
Dung from the agriculture ministry's inspection team says the team will propose treating those using banned substances in farming and animal feed production as criminal offenders. Meanwhile, Thai in Trang Bom District says in Sai Gon Giai Phong, "Local authorities should impose strict sanctions against violators and support honest farmers."
According to La Van Kinh, deputy director of the National Institute of Animal Sciences and director of the Institute of Animal Sciences for Southern Vietnam, farmers are able to raise lean-meat pigs by mixing feed with organic acids and herbal supplements, instead of relying on any prohibited substances.
More than 300 pig farmers in Dong Nai Province signed an agreement committing not to use banned stimulants during a seminar organized by the Institute of Animal Sciences for Southern Vietnam in coordination with the Animal Husbandry Association and Dong Nai Province's Department of Agriculture and Rural Development.
But more importantly, in addition to technical inspections to be taken regularly and seriously to protect the health of consumers and the interests of honest farmers, management and monitoring, especially of traders, should be enhanced.
As reported by Dan Tri, the Department of Agriculture and Rural Development of Dong Nai Province is coordinating with the Department of Industry and Trade in find ways to put dishonest traders on the management radar.
SGT