Severe flooding in northern Quang Ninh Province was a result of years of substandard coal mining in the area, experts said.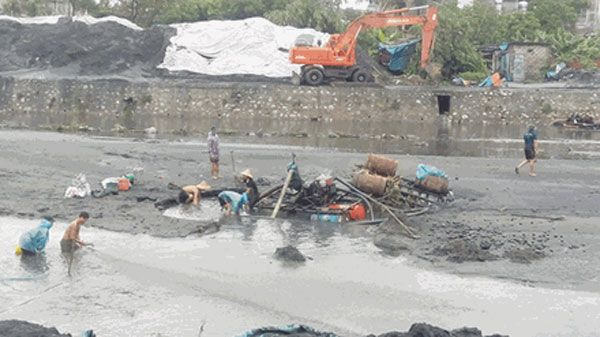 Rivers and streams polluted after the flooding
Do Thanh Bai, from the Chemical Society of Vietnam (CSV), said the serious property and environmental damage from flooding in the province was a result of major changes in geomorphology due to prolonged coal mining. The overflow of coal slurry seriously damaged large areas of agricultural land and aquaculture.
Bai told a seminar to review coal mining and environmental risk after the severe flooding in Quang Ninh that mineral exploitation for years had neglected environmental protection.
"Water pollution is a burning issue in Quang Ninh. In many areas, floodwaters have been found to be contaminated with zinc, arsenic, selenium and mangan. It would gradually pollute soil and water resources in Halong Bay. Water pollution also affect cultivation land in the province," Bai said.
Dao Trong Tu, director of the Center for Sustainable Development of Water Resources and Adaptation to Climate Change, cited a survey on the environmental impacts of the Mao Khe coal-fueled power plant, saying the plant has caused serious water pollution in the Gao Stream and Cam River, critically affecting aquatic life.
"The content of metal, particularly iron, in water of the Gao Stream was 1.2 times higher than the acceptable level and the content of cadmium, was 3.2 times higher than the standard level," Tu noted.
However, local government and relevant authorities have yet to take any measure to deal with or mitigate water pollution there.
"It's important to make a comprehensive assessment on the long-term impact of coal mining as well as scrutinize the planning for urban development in Quang Ninh," Bai said.
Dao Trong Hung, from the Academy of Science and Technology of Vietnam, said many streams are pouring polluted water into areas around Halong Bay.
"Water pollution may eliminate many aquatic species. Halong Bay's management board has yet to take any effective measures to deal with the environmental pollution," Hung said.
Major coal areas in Halong, Dong Trieu and Uong Bi should immediately minimize open-cut mines.
"The coal industry is spending only two percent of its revenue on environmental issues and this is too modest compared to the national rate of from 15-19 percent," he said.
An official from the Ministry of Industry and Trade's General Department of Energy said the coal industry must reconsider the way of discharging waste water in areas of Cam Pha, Mao Khe and Uong Bi where many open-cut coal mines are located.
The Quang Ninh provincial government has decided to ban or temporarily ban mining operations at 1,541 sites covering 190,167 hectares in an effort to intensify environmental protection and preserve the area's cultural, historical and natural resources.
DTriNews