VietNamNet Bridge - HCM City has asked for the Prime Minister's approval on the appointment of a group of Korean and Japanese contractors as the investor for the $22 billion Thu Thiem Eco Smart City.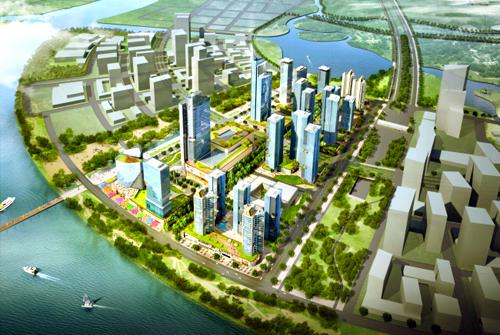 The "smart city" will cover more than 10 hectares, including shopping malls, hotels, serviced apartments and other buildings in the a2 zone of the new urban area of Thu Thiem, HCM City.
According to the city administration, the zone has yet to receive an investment. Some investors interested in the zone have repeatedly asked to adjust the approved construction plans.
Only the group of the seven Korean and Japanese contractors agreed to pay a deposit and nearly VND2 trillion of the land use charges to receive six plots of land.
This group also pledged to build technical infrastructure for the entire a2 zone to form a center of finance - banking, commerce and services.
HCM City authorities said that the deposits and the land use fees paid by this group of investors will enable to city to pay part of its loans (VND29 trillion) to invest in infrastructure for the Thu Thiem new residential area, reducing the interest by about VND2.9 billion.
HCM City plans to turn a new 657 hectare area on the east side of the Saigon River called Thu Thiem into a financial, commercial and services centre of Vietnam.
Consisting of mixed residential, commercial and natural space, the new extension is intended to become a sustainable, flexible and environmentally sensitive space connected to the rest of the city through four road bridges (one already completed), a pedestrian bridge, a metro link and through HCMC's already extensive waterway network.
The area will be developed via the state and private sector, offering new opportunities to businesses looking at Vietnam as an emerging opportunity in South East Asia.
When completed, the area is expected to have around 150,000 residents and a daily working population of 220,000. The eight neighborhoods will include a convention and exhibition centre, an opera house, a sports complex, hotels, and schools and much in the way of open spaces as well as nature reserves.
The inclusion of nature reserves and integration into the existing landscape is important to Thu Thiem, as environmental sustainability will play a significant role in the area's ongoing development.
Factors such as green roofs and buildings designed to facilitate airflow will help keep developments cool with minimal stress on power. Meanwhile, solar cells and rainwater filtration will help the new region reduce electricity and water usage.
With Vietnam's major southern city to continue expanding at a rapid rate, the development of Thu Thiem will offer foreign businesses myriad opportunities in construction and real estate and a location for further business growth.
Le Ha