VietNamNet Bridge – Doan Minh Hung lives in a rented house, as he sold his land to open "love class", offering free education to over 130 underprivileged children in HCM City.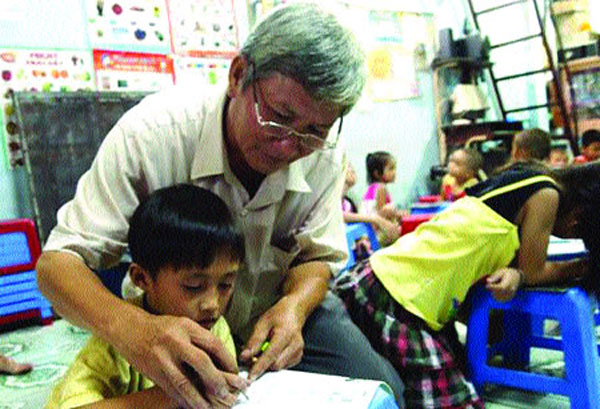 Offering a hand: Doan Minh Hung helps a boy practise writing.
The land he sold over a year ago was inherited from his ancestors in the southern province of Ba Ria - Vung Tau.
Teacher Hung, as he is loving called by locals, lives in Tan Phu District of HCM City.
At 6pm, his class at 166 Street, Tan Phu District, comes alive with the sounds of children reading aloud.
In the class, one can see more than 130 students from 5-6 up to 20 years old. Most of them are children of poor, immigrant parents.
Love class has about 6-7 teachers who are in charge of different grades starting from 1 to 6. The teachers are all university students who have volunteered to teach.
Painstakingly practising writing, 13-year-old Tran Ngoc Quy from Binh Tan District, cheerfully says, "I finished grade 1; thanks to teacher Hung I can write my own name."
His older sister, 14-year-old Tran Ngoc Han, is a grade 3 student at the class.
As their parents work as bottle and waste pickers, they keep moving from one location to another. Extreme poverty never allowed Han and Quy to go to school.
"More than a year ago, our mom brought us to teacher Hung. I'm glad that we now go to class," Quy noted.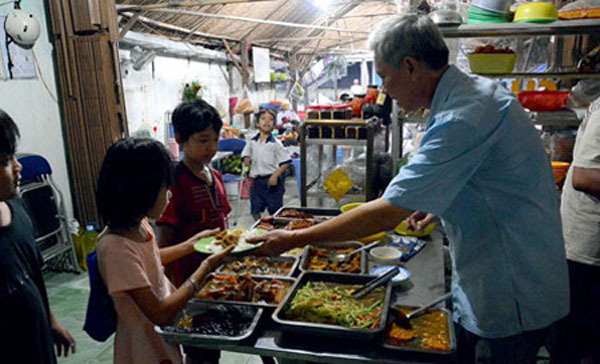 Dinner is served: Students eat before they go to class.
During the day, Quy and his sister help their grandmother who sells coffee in an alley close to their home and in late afternoon, they cycle over 3km to attend teacher Hung's class.
Sitting next to Quy is 14-year-old Nguyen Van Kha Ai who is trying to write words. Ai has been attending this class for approximately one year, and today he is proficient in reading and writing.
Ai said his 17-year-old sister finished the 7th grade and leave school to work with their parents.
"Thanks to Teacher Hung, I can now write. I also havemany friends. I'm so happy here that even when the weather is not good I try to attend school," Ai said, laughing heartily.
Helping one of the children with writing, Hoang Thi Hong Thuy, a student of HCM City Teachers' University, remarked, "Teaching students here is fairly strenuous, but they are very obedient and ready to learn.
"Each of the students has a different situation at home, but a common factor is that they all are poor. Without this class, learning could have been a distant dream for them. Just helping them learn gives me and other volunteers great joy," Thuy said.
Meals for healthy minds
"Students here are mostly children of immigrants who lead a nomadic life, so they are very poor. Many children aged 12-13 years had never been to school," teacher Hung observed.
Although the class begins at 6pm, students often arrive from 5pm. After entering the classroom, they greet their teachers with folded arms and say "Amitabha Buddha".
The children then sit at the dinner table and enjoy a vegetarian meal cooked by Hung and his wife, for they believe students should be in good health to learn new lessons.
Hung also prepares awards for his students.
The awards are simple; each student receives a dozen packages of rice noodles, some rice, and a bottle of soy sauce.
"Many people laugh when they hear about these awards, but, actually, this is to help the children combat hunger during the summer holidays, when they do not come to the class," Hung revealed.
Talking about how he came to establish "class of love", Hung said: "I sympathise with the poor, especially those who cannot go to school, as they are at a disadvantage, both in life and in the society."
Hung was born and raised in Ba Ria-Vung Tau. He too was born into a poor family and had to quit school after finishing grade 12 to go to work.
After getting married, Hung moved to HCM City, where he repaired scales and cooked and sold vegetarian food.
Six years ago, when his family's economic condition improved, Hung decided to open a class to teach children living along his lane.
Initially, the class had only two students.
Then, thanks to the good reputation of his class, many people brought their children to him, asking him to give them basic literacy.
To facilitate this growing need for education, Hung moved to a larger rented house in Binh Tan District.
The class increased to 10, 20, and then 30 students who filled the neighbourhood with their laughter and sounds of reading.
As the number of students kept rising, the newly rented house became crowded, giving him many sleepless nights.
At that time, his family had a house in Ba Ria-Vung Tau, which was left behind by his ancestors.
"It became impossible to continue teaching children at the rented house because there were too many of them. If more students came to enrol in our school and if we turned them down, then we would have become conscience-stricken; and we did not have enough money to rent a larger house," he recalled.
Then one day, he boldly suggested his family sell their house to rent another larger accommodation for their business (selling vegetarian food and repairing scales) and teaching children.
"My family supported the idea, so I sold the house in my village for more than VND200 million (US$9,500) then rented this larger house, which is more spacious for the students to learn their lessons," Hung said.
Dung Nguyen and Trung Hieu
VNS