Subsidence has affected several sections of a part of National Highway No 1 that passes through the central Quang Binh Province in recent days.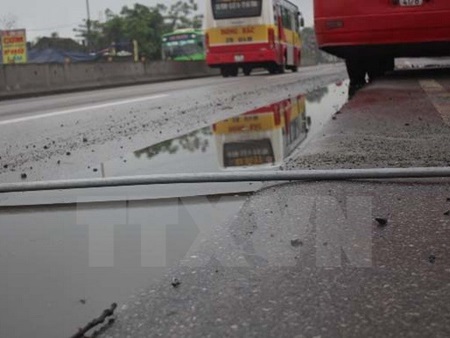 Subsidence has affected some sections of National Highway No 1.
Nguyen Viet Hai, general director of the contractor firm Son Hai Ltd Co, said the company discovered last Wednesday that a strange chemical was destroying some sections of the road. He said it was not due to any mistake committed by the company during the building process.
Inspections showed the unidentified chemical had damaged the adhesive between the asphalt and the stones.
The company has reported the matter to the local authorities for further investigation, Hai said.
The provincial transport department also reported this issue to the transport ministry.
The police in Bo Trach district have begun their investigation and have sent a sample of the chemical to the public security ministry for its identification.
The Son Hai Company has also offered VND50 million (US$2,300) as reward for anyone who has any information to help the inspectors find out the violators in the case.
Before building the road, the company had made a commitment to maintain it for five years.
This was also the road section that was planned to be built with a smooth and flat surface to widen and upgrade National Highway 1A in Quang Binh Province.
National Highway 5
Meanwhile, some sections of National Highway No 5 have also being destroyed, especially the section that runs through Hai Phong City.
Subsidence has occurred in several sections, causing difficulties and posing a danger to people on this road.
The contractor has repaired the road thrice over two years, ever since it was opened to traffic in June 2013.
In recent months, subsidence has again occurred in this section, some of it being deep.
Contractors have been repairing the damage since June 20, and have been asked to pay for the work out of their own pocket.
However, these were only temporary measures to deal with the problem, while the cause of the subsidence has not been found, Nguyen Quoc Viet, deputy head of project management office number 3, said.
Contractors are facing several difficulties in repairing the road due to the large number of vehicles running on it, especially high-capacity vehicles.
It's hard to ensure the quality of the road surface because cars would run on it immediately after the repair work, a contractor said.
In addition, prolonged hot weather of more than 50 degrees Celsius has also seriously affected the road surface.
Do Trong Hiep, deputy director of the Viet Nam Road General Department's project management office number 3, said the department was urging the contractors to check the entire route to prepare plans for repairs immediately. 
VNS