VietNamNet Bridge – Female labourers working in foreign-invested enterprises receive an average monthly wage of VND5 million (US$229), much lower than that of male labourers and their peers in domestic companies.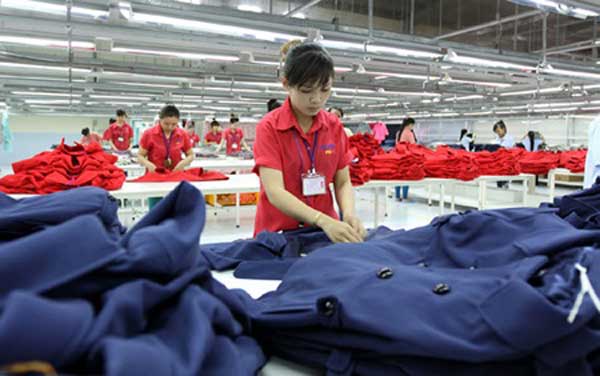 A female worker at Hansae Viet Nam Co Ltd in HCM City. Female labourers faced many difficulties in finding housing, educating children and accessing health services. 
This was revealed at a workshop held on Wednesday in southern Dong Nai Province to review a survey on income and living conditions for female migrants in FDI enterprises.
The survey was conducted in October and November last year in northern Bac Ninh Province, Dong Nai Province and HCM City. In each locality, researchers examined 13 enterprises, including 10 FDI and three non-FDI enterprises that were exporting garments, textiles, footwear and seafood products to the European Union.
According to the survey, access to safety equipment for women working for FDI companies was 10 per cent lower than those for female working in Vietnamese companies.
The migrant group also faced difficulties in finding housing, educating children and accessing health services due to problems with personal finances, administrative procedures and distance from their work place to those facilities.
Particularly, 69.1 per cent of the group had trouble finding schools and kindergartens compared to only 3.7 per cent among their peers working outside the FDI sector.
Hong Thi Thu Hai, a representative from the management board of industrial parks in northern Bac Ninh Province, said that there women made up 130,000 of the 189,000 labourers working across the province.
She proposed that Government, other organisations and individuals invest their capital in developing social infrastructure, such as kindergartens, schools and social housing, near industrial zones to improve living conditions for migrant female workers.
Meanwhile, Tran Anh Tuan, Deputy Director of the HCM City Centre for Human Resources and Labour Market Information, said there were now 890,000 female workers in the city, and within 10 years an extra 270,000 workers would be needed, half of whom will be women.
He suggested that making it easier for migrants to access bank loans would be very helpful.
At the workshop, Dr Bui Sy Tuan from the Institute of Labour Science and Social Affairs, called for the establishment of additional support centres, improving the quality of vocational training courses and completing regulations ensuring the rights of the vulnerable community.
At present, many workers in FDI enterprises around Ha Noi, Ho Chi Minh City, Binh Duong and Dong Nai are from other provinces, including Hai Duong, Thanh Hoa and Nghe An. Female workers account for a large proportion in textiles, electronics, food processing and footwear.
In their new environments, migrants often experience difficulties with the cost of housing, education, health care and cost of living.
The workshop was organised by the Institute of Labour Science and Social Affairs and European Trade Policy and Investment Support Project.
VNS