VietNamNet Bridge – Up to nine children drown every day because they can't swim, but still play in water, an expert said.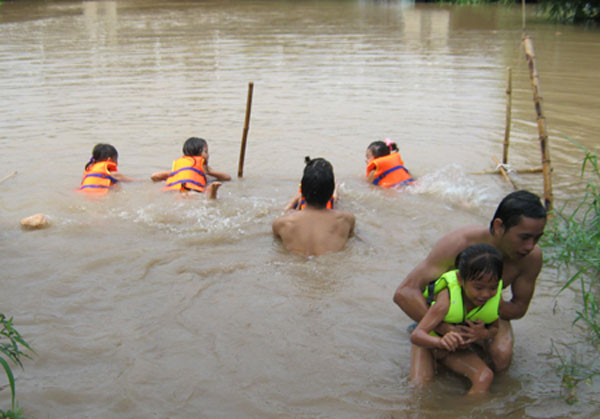 Children in Dong Thap Province learning how to swim
Dang Hoa Nam said the Red River Delta and the Mekong Delta regions had the highest drowning rates.
Nam, general director of the Child Protection and Care Department under the Ministry of Labour, Invalids and Social Welfare, said only one in ten children in the Red River Delta know how to swim, and only a third can swim in the Mekong delta region.
The swimming rate is much lower in other areas, particularly mountainous regions.
Children aged up to four account for most drowning, with five-to-seven years old the next danger group.
In May alone, Nghe An Province recorded 20 drownings, most of them children, as well as adults who tried to rescue them. Between mid-April to mid-May this year, at least four children drowned in Chau Thanh District, Dong Thanh Province.
Nam said more than 3,000 children drown each year, but while the number is declining it is still the leading cause of child death in Vietnam.
A scarcity of public swimming pools and their cost may be a reason why children don't learn to swim, and concerns about water quality at such pools. Many rivers and lakes do not have warning signs, nor do enough parents ensure ponds are properly fenced and wells covered. Few parents know resuscitation techniques.
"Many children in mountainous areas still cross rivers to go to school, and substandard boats (and bridges) are very dangerous," Nam said.
Nam said the Child Protection and Care Department is launching a campaign to protect children aimed at educating parents and teaching children to watch out for each other.
DTriNews