VietNamNet Bridge – It is time for the National Assembly to enact a law or ordinance to regulate and support craft villages, proposed participants at a forum on the role of craft villages in Viet Nam's international integration.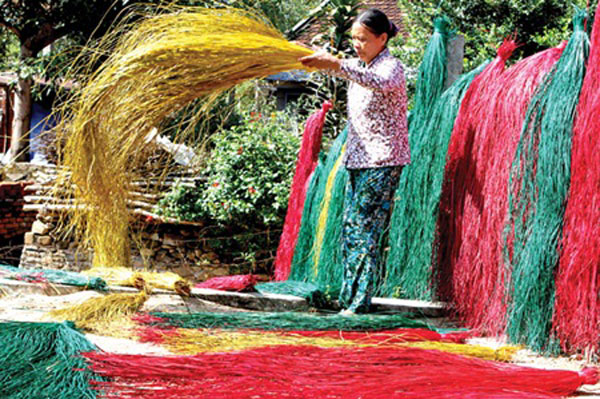 A woman makes sedge mats at Phu Tan Craft Village in the central province of Phu Yen. A law or ordinance regulating and supporting craft villages should be enacted, participants at a forum said. 
The participants included President of the Viet Nam Fatherland Front, Nguyen Thien Nhan, Minister of Trade and Industry, Vu Huy Hoang, and Vice Minister of Natural Resources and Environment Bui Cach Tuyen and representatives from 12 craft villages from across the nation.
According to Luu Duy Dan, Chairman of the Association of Viet Nam Craft Villages, by late 2014, there were 5,096 craft villages in Viet Nam providing about 10 million jobs and with incomes around double or triple that of a rice farmer. In some localities, the income can be considerably higher.
"Many Vietnamese craft villages have been around for 500-1,000 years and they are well-known around the world, like Van Phuc silk, Dong Ho painting or Bat Trang ceramic villages," Dan said.
However, he said craft villages are facing many challenges nowadays. In 2014 only one-third of them met criteria set by the government, products were increasingly of poor quality and design and pollution from villages was uncontrolled.
For Viet Nam Fatherland Front President, Nguyen Thien Nhan, Vietnamese craft villages cannot develop without support from the Government and via their own efforts.
"Many craft villages are thousands of years old, the youngest of them aren't less than 200 years old," Nhan said.
"The development of craft villages is closely associated with the history of Viet Nam's development. They have produced many products and generated many jobs for our people.
"What's more important is that they not only provide employment to many people, but their products are of high economic value. They also embody the spiritual culture and artistic value of the Vietnamese people," Nhan said.
However, during a Sunday visit to the craft villages of Nam Dinh Province, Nhan noted a big pollution problem facing the villages there, particularly villages engaged in engineering and lacquer ware.
In spite of all their value, craft villages still need serious improvements.
Bui Cach Tuyen, Deputy Minister of Natural Resources and Environment, said his ministry has identified 104 craft villages in the country causing the highest levels of pollution.
He said in some localities, heavy metal pollution reached alarming levels– more than 3,000 times the permissible level – and most lacked wastewater or solid waste treatment facilities.
"This is a big problem requiring us to think carefully about how we weigh economic benefits against health and environmental effects," said Tuyen.
Vu Huy Hoang, Minister of Trade and Industry, chimed in to add that the time had come for craft villages to change their household production model into co-operatives and enterprises.
"This is the best way for them to access to credit, technology and consumer markets," Hoang said.
He supports the forum's proposal to lobby the National Assembly to enact some measure of regulatory laws to improve and monitor craft villages.
VNS