Frustrated by the air pollution caused by ash coming from the Vinh Tan 2 coal power plant, several people in Binh Thuan Province protested in front of the plant yesterday.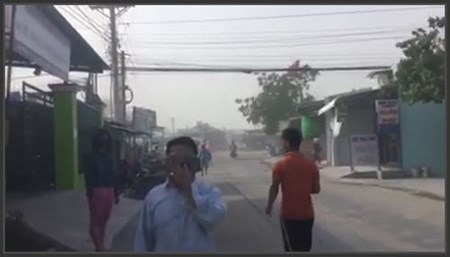 A man covers his face when walking on the road near the plant. — Photo danviet.vn 
The incident caused traffic jams on the North-South National Highway 1.
Danviet.vn, the online version of the Nong thon Ngay nay (Countryside Today) newspaper, spoke to the provincial chief Le Tien Phuong about the incident.
Phuong said the people protested because the thermal power plant was causing pollution, especially during the past few days when strong winds blew in the area.
He said he has asked the plant to take measures to minimise the pollution, such as by covering the cargo of the cinder-carrying trucks, and by sprinkling water on the roads which the trucks use.
He said, "If the plant does not abide by (his order) strictly, the province will report it to the Prime Minister for further action."
Phuong told the newspaper that by midnight yesterday, the situation had calmed down after local authorised agencies persuaded the people to go home, and not block the highway and cause traffic jams.
By 2.45pm today, Viet Nam News contacted the provincial People's Committee spokesman Nguyen Dinh Trung to learn more about the situation today. Trung said more people have returned to the plant.
Meanwhile Huynh Duy Khoi, vice chairman of the People's Committee of Tuy Phong District, where the plant is located, refused to answer the question. 
VNS