VietNamNet Bridge – Many Vietnamese have been buying bank notes, souvenirs and interior decor items with a goat-like shape or images of a goat, preparing to welcome the new lunar year, the year of the goat.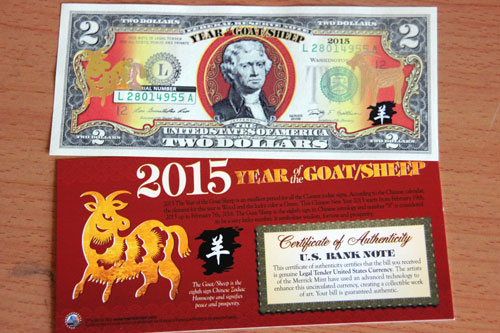 Many collection shops in Hanoi have begun taking orders for $US2 bank notes with the image of a goat issued by the US Treasury. On eBay and Amazon, the special version of the US $2 banknote is offered at $13-15, or VND300,000-350,000, which does not include the shipping fee.
In Vietnam, one banknote is sold for VND400,000-500,000. Nguyen Van Linh, the owner of Shoptien.com, said he has taken orders from 300 customers and the first banknotes will be available on January 15.
Linh explained that the banknotes will be brought to Vietnam by the shop's staff. However, as every traveler can bring only 100 such banknotes, the number will be limited.
"In general, customers have to wait two to three weeks to get deliveries," he said. "I think I will sell 3,000 banknotes from now to Tet."
The 2-dollar banknotes with the US President image have also been in high demand, offered at VND350,000. Meanwhile, a 2-dollar plastic gold-plated banknote is cheaper, at VND25,000.  Nepali Ruppee with the images of goat and Mount Everest is sold at VND100,000, while one Australian dollar is VND250,000.
Hoang Lan, a currency collector, said she is thinking of buying an Indian gold-plated coin at VND1.2 million after seeing the coin on the internet.
"Currency collectors have many choices this year," she said. "I have 15 banknotes of different countries with a goat image."
The souvenirs, pictures and statues with a goat shape have also been selling like hotcakes. Vietnamese especially like displaying stone goat-shaped statues in their homes, because the goat symbolizes good fortune and luck.
At a feng shui gemstone product shop in Binh Thanh district in HCM City, a small product no larger than a hand sold for VND1.8 million.
However, the saleswoman there said the products priced at VND1-3 million have been selling very well, because they have reasonable sizes. Paperweights and small decorative items are also available for VND40,000 to VND200,000.
Meanwhile, painters owning galleries on Tran Phu Street in district 5 are very busy with goat pictures, fulfilling a large numbers of orders. A two sq-meter lacquer is being sold for VND4 million. A gold inlaid picture there was selling for VND22 million.
Chi Mai