Sappers in the northernmost province of Ha Giang on January 12 deactivated a bomb weighing 45.2kg in Nguyen Trai ward, Ha Giang city.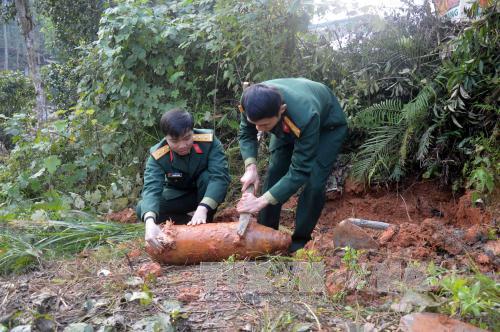 The US-produced bomb, coded AN-M30, contained 25kg of TNT explosive.
The US-produced bomb, coded AN-M30, contained 25kg of TNT explosive. It was discovered during the clearing of a football field, according to Lieutenant Colonel Nguyen Van Minh, head of the sappers' board for Ha Giang province.
After the weapon was defused, sappers thoroughly combed neighbouring areas to ensure the local community's safety, he added, noting that this is the first bomb found in Ha Giang city.
The Military High Command of Ha Giang province, the last locality to be relieved of war in Vietnam, has detected and disarmed hundreds of unexploded ordnance pieces, especially in border areas, over the past few years.
Preliminary statistics show that unexploded ordnances (UXOs) have claimed more than 42,000 lives and left 62,000 injured, primarily rural individuals and children, in Vietnam over the last four decades, or roughly 1,500 deaths and 2,300 injuries each year.
According to the National Steering Committee for Recovery over the Post-war Bomb and Landmine Impact, an estimated 800,000 tonnes of UXOs are scattered across 6.6 million hectares, or 20.12 percent of the country's land, mainly in the central region.
Vietnam has thus far cleared hundreds of thousands of hectares of UXOs, including more than 100,000 hectares of land demined between 2012 and 2013 alone.
VNA