Skyscraper project on Han River bank cancelled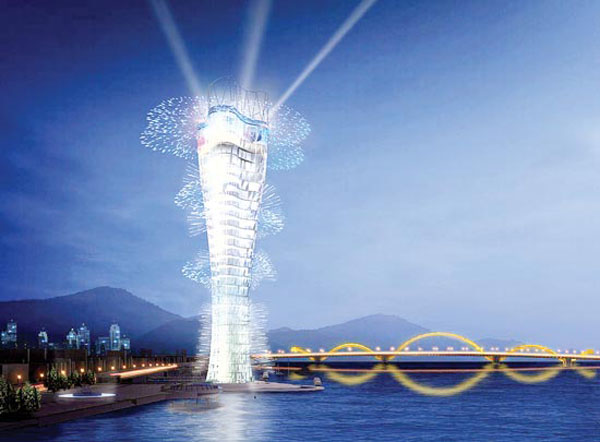 In an interview by Sai Gon Giai Phong Newspaper yesterday, Da Nang's Party Secretary Tran Tho said the project to build a skyscraper dubbed a "lighthouse" on the Han River in the central city will be cancelled.
Mr. Tran Tho said that Da Nang city People's Committee has just given approval to implement the project but not yet agree to carry out the project on the river.
However, after receiving the objection from the public and architects, the city authority decided to cancel the project, he said.
Mr. Tho said that he had requested the city's government to look for a new place to build the skyscraper.
After the city committee approved the project, many architects and municipal development experts raised their voice against the project.
They said that project would damage landscape of river that has helped the city become one of the most beautiful cities in Vietnam
In addition, the project's investor- investment joint stock company DHC- called the building as a lighthouse that experts believed was not necessary because no one builds a lighthouse on river.
Experts said the investor swindled the local government because they knew that the government had never approved one more skyscraper along river banks.
Deputy PM instructs implementation of many highway projects
Deputy Prime Minister Hoang Trung Hai has instructed the Ministry of Transport to implement many highway projects in the northern and southern region.
The ministry is tasked to invite bids for the projects' construction under Public Private Partnership (PPP) form, decide investment phases to meet traffic demand and ensure capital balance ability in accordance with financial plans.
According to the Ministry of Transport, 106 kilometer and six-lane Binh Binh-Thanh Hoa Highway project is expected to break ground in the first half this year, while 98.2 kilometer Thanh Hoa-Bai Vot with 4-6 lanes is scheduled to start construction early next year and be completed by 2020.
The construction of 51 kilometer Trung Luong-My Thuan and 24.5 kilometer My Thuan-Can Tho is planned to start this month. These two highways will have six lanes each.
Education ministry gives guideline on primary students' remarks
The Ministry of Education and Training has sent a guideline to its sub-departments, instructing how to assess primary students.
As per the document, primary students would be ranked into three standards including subject, competence development and quality. When giving remarks on students, teachers should pay attention to their whole growth procedure and other extra activities, progress, shortcomings, skills, aptitude and quality.
Teachers just give remarks that students complete or not complete educational activities. While remarking students' ability growth, teachers should write prominent manifestation of a student's characteristics, progress, and ability formation and growth procedures as well as adjust students' behaviors and give advice to students' parents.
The Ministry also guided how to appraise students in the end of academic year.
Hanoi's traditional medicine street revived
The Management Board of Hanoi's Old Quarter on January 6 said Hoan Kiem district has completed a project to conserve Lan Ong street, which specialises in selling Vietnamese traditional medicine.
The project aims to restore facades and preserve the architectural spaces of the street, improve the living quality of residents, as well as make the street a destination for domestic and international tourists who want to learn about the traditional trade and therapies.
According to the management board, an opening ceremony featuring an art performance depicting the history and tradition of the street will be held on January 9.
The street is named after famous physician Hai Thuong Lan Ong, born Le Huu Trac (1720-1791). The street is a delight of textures and smells emanating from the sacks of herbal medicinal products including leaves, roots, barks, and powders.
So far, about 85% of local residents still keep their traditional trade.
Hanoi invests VND98 billion in water supply
The Hanoi Municipal People's Committee has issued a decision on a VND97.8 billion (US$4.6 million) investment to build a clean water supply facility in Trung Hoa commune, Truong Yen, Chuong My district to help people in the outlaying district access clean water.
The project helps supply clean water for over 23,000 local residents in Chuong My district.
The three-year project was funded by the World Bank (WB) from the National Target Programme for Rural Water Supply and Sanitation, in which the WB provided 60% of the funding, Hanoi invested 30% and local people contributed 10%.
When completed, the facility's capacity will be 3,600 cubic metres per day, supplying clean water for around 23,137 residents. The water source from Bui river running through Trung Gia commune will be treated by synchronised technologies.
The Hanoi municipal Department of Agriculture and Rural Development, the investor, was asked to facilitate the construction, review and select the facility's design to ensure economic and technical conditions and effectiveness.
Earlier, Hanoi invested nearly VND90 billion (US$4.2 million) in a similar project in Huong Son commune, My Duc district, which is scheduled to be completed in 2015, to supply clean water for nearly 23,000 local residents.
Singapore's education group to build 2 schools in Binh Dinh
Authorities of southern central Binh Dinh province has given KinderWorld, a Singaporean education group, the green light to build two educational facilities in Quy Nhon city.
Accordingly, the Singapore-Vietnam International School (SVIS), a modern establishment that will run international-standard courses for learners from the 1 st -12 th grades, is to be constructed on a five-hectare area at An Phu Thi urban area.
Meanwhile, the Outward Bound School, an outdoor adventure education model serving both Vietnamese and foreign youth, will cover 41.2 hectare of land at Tan Thanh tourism zone, in Cat Hai commune.
At a meeting with KinderWorld's Chairman Ricky Tan on January 8, Ho Quoc Dung, Chairman of the provincial People's Committee, said he supports and believes in the promising future of the two schools, adding that the province will create favorable conditions to facilitate the education group's project implementation.
Since its presence in Vietnam in early 2000, KinderWorld has developed 15 schools and kindergartens in Hanoi, Da Nang, Ho Chi Minh City, Binh Duong and Ba Ria-Vung Tau provinces, offering both international and integrated education programmes for local students.
Thanh Hoa to help build houses for poor families
Over 3,000 poor households in flood-prone areas in 17 districts and towns of the northern central province of Thanh Hoa will get financial assistance for building flood-and-storm resistant homes.
This is the goal of the provincial Construction Department's project to be carried out from December 2014 to 2016 in line with the Prime Minister's Decision 48/2014/QD-TTg dated August 28, 2014.
The project has a total investment of 178 billion VND, of which over 44 billion VND will come from the State budget, more than 50 billion VND will be sourced from preferential loans while the community and beneficiary households will contribute the remaining 66 billion VND.
The "For the Poor" Fund also donates 16 billion VND to the programme.
Beneficiary households will get financial assistance in cash with the amount ranging from 12 million VND, 14 million VND and 16 million VND, depending on regions.
They are also able to apply for loans of up to 15 million VND from the Bank for Social Policies.
Since 2009, Thanh Hoa has effectively implemented Programme 167 on housing support for poor households, which has built 32,490 houses from 793 billion VND mobilised.
The province also completed a project on building flood and storm shelters benefiting 100 households.
Human resources play key role in tourism development
Vietnam's tourism sector has decided to prioritise human resources development in an effort to diversify the industry, the Vietnam Economic News reported.
High-quality human resources are considered one of the most important resources for tourism development. According to the Vietnam National Administration of Tourism, the tourism sector needs an additional 40,000 workers every year, but currently produces just 15,000 tourism graduates annually. The sector employed around 500,000 direct workers and one million indirect workers last year, and expects to record 650,000 direct jobs and two million indirect jobs this year.
According to the national tourism development strategy for the 2011-2020, the tourism sector will need 2.2 million workers this year and around tree million by 2020. Most tourism colleges are found in Hanoi, Ho Chi Minh City, Da Nang and Hue, and only a few of them can be found in other localities with tourism potential. Local tourism training quality is low due to a lack of necessary training facilities. Tourism training needs to be improved in both quality and quantity.
At the Vietnam Business Forum 2014, investors agreed that the tourism and hospitability sector in Vietnam is facing a shortage of trained labour, which hinders the sector's sustainable development.
Foreign investors also suggested that the tourism and hospitability sector should improve its image and trust by promoting training, as a result of it, well-trained tourism workers would help providing better services and generating more revenue for the sector.
In addition, qualified tourism workers should be sent to work for other travel companies in the Association of Southeast Asian Nations (ASEAN) region to enhance their practice, expertise, knowledge, skills and professional values. Moreover, foreign tour operators should be allowed to participate in the local travel market while streamlining the procedure for grant of the travel business licence.
Vietnam welcomed 7.87 million foreign tourists and 38.5 domestic tourists in 2014. The country has set the 2015 goal of welcoming approximately 8.5 million foreign arrivals and 41 million domestic tourists, raking in over 12 billion USD.-
Decree calls for end to backward marriage practices
The Vietnamese Government has issued a decree detailing the implementation of marriage and family practices while calling for an end to backward ones.
Under the document, backward customs should be eliminated, including getting married prior to marriage age prescribed by the Marriage and Family Law, forcing or obstructing marriage due to superstition or ethnic and religious differences, and forbidding marriage among relatives out of four generations.
The new decree also bans such out-of-date practices as polygamy, marriage among people of the same direct blood line or among relatives within three generations, and high requirements for wedding gifts.
The Government asks relevant ministries, sectors, and People's Committees at all levels to work together with the Vietnam Fatherland Front to build and implement policies and measures encouraging people to follow legal regulations on marriage and family.
They are also requested to intensify activities to popularise laws relating to this issue, thus helping people promote good practices and abolish backward ones.-
Social welfare beneficiaries to receive extra support for Tet holiday
The People's Committee of central Da Nang city has decided to allocate 24 billion VND (1.1 million USD) to support social welfare beneficiaries and staff of non-productive administrative units in honour of the Lunar New Year holiday, which falls on February 15-23.
Accordingly, each staff of non-productive administrative units will receive 1 million VND (47.6 USD), while an additional 22 gifts worth 1 million VND will be sent to families with of officers and soldiers who are working on Truong Sa archipelago.
The city will also provide impoverished households with 15 kilograms of rice each.
Meanwhile, the neighbouring province of Thua Thien-Hue has committed 10 billion VND (476,000 USD) to purchasing gifts for social welfare beneficiaries. Of that amount, nearly 8 billion VND will be sourced from the provincial budget and the remaining will be generated from the district budget.
Local children of AO-affected ex-soldiers, disabled people, and poor households will be given Tet gifts.
Binh Phuoc targets development in rural areas
The southern province of Binh Phuoc aims to assist ten of 21 targeted communes to meet all 19 criteria of the national programme on building modern rural areas this year.
In order to meet this target, the province plans to mobilise various resources to accelerate implementation of the programme, which is estimated to cost more than 3.75 trillion VND (178.67 million USD).
Binh Phuoc officials intend to integrate the programme with other locally implemented projects, and to make use of other resources including land use right auctions, rental charges, and the local budget.
Four years post-commencement, the programme has helped raise the 2014 per capita income to 39 million VND (1,860 USD) – up 210 percent from 2010 –, reduce the impoverished household rate from 6.51 percent to 3.5 percent, and improve local infrastructure facilities and social services.
One commune within the province was recognised as a new modern rural area in 2014. Binh Phuoc intends to assist ten additional communes to satisfy at least 15 criteria in 2015, if not all 19.
Last year, as many as 785 communes were estimated to become new-style rural areas. In addition, 1,285 communes were expected to meet 15-18 out of the 19 criteria for new rural development, and 2,836 others to satisfy 10-14 criteria, according to the programme's steering committee.
More than 157.8 trillion VND (8.5 billion USD), sourced from the State budget, credits, and the community, was spent on implementing the programme.
Building infrastructure, improving production capacity, constructing public works, protecting the landscape and environment, and promoting local traditions and cultural identities are among the criteria of the programme, initiated by the Government in 2010.
Vo Nguyen Giap becomes Hanoi's most modern highway
Vo Nguyen Giap Highway, which has been opened to traffic on January 4, is now said to be Hanoi's most beautiful road which provides shorter route from the city's centre to Noi Bai International Airport.
Vo Nguyen Giap Highway links the newly-opened Nhat Tan Bridge with Noi Bai Airport. The new route will cut driving time from Noi Bai Airport to the city centre to only 20 minutes.
The new route also aims to help reducing congestion and traffic flow and improving the economy of Dong Anh and Soc Son districts. In near future, urban areas and commercial centres will be built along the highway.
The 12km-long highway includes a cohesive system of overpasses and tunnels. It has a speed limit of 80km/h for four-wheeler lanes and 40km/h for two motorbike lanes. The six-lane Vo Nguyen Giap Highway had an investment of VND6.7 trillion (USD301.5 million) and completed with Japanese ODA.
The highway is named after the legendary General Vo Nguyen Giap, who led the Dien Bien Phu Victory, forcing French government to abandon its colonial rules in Indochina.
US$301 million spent on road upgrade and management
The Ministry of Transport has started upgrading Trang Thua and Cong Neo bridges on National Road 38B in Hai Duong Province as part of the Vietnam Road Asset Management Project (VRAMP) worth VND6.3 trillion (US$301 million).
The upgrade package for the two bridges will help better connect national highways in northern Vietnam, including national highways 5 and 39, and Hanoi-Haiphong Expressway, when it is complete.
VRAMP is aimed to upgrade and manage a total of 18,000 kilometers of road in the country. The World Bank lends US$251 million to the project and the remaining US$50 million comes from Vietnam.
The Vietnam Directorate for Roads is the executing agency of the project and Project Management Unit 3 (PMU 3) serves as its representative. The project comprises of four main components implemented by both local and foreign contractors.
Component A is to collect and build a road database framework, and develop a road management system. Component B consists of maintenance for the National Road 2 section from Tuyen Quang Province to Ha Giang Province, National Road 48 in Nghe An Province and the National Road 6 section from Hoa Binh Province to Son La Province, as well as consulting contracts for road maintenance, and equipment for VRAMP.
Component C covers upgrading three sections of National Roads 38 and 39 in the northern provinces of Hung Yen and Thai Binh and construction of four bridges on National Road 38B. Component D helps improve management capacity of the Vietnam Directorate for Roads, operate the Road Maintenance Fund, and develop designs for traffic works.
VRAMP will create synchronized connections between localities in key economic regions in northern Vietnam, including Hai Duong, Hung Yen, Thai Binh and Haiphong in the Red River Delta region and Ha Giang, Son La and Hoa Binh in the northern upland.
The project also incorporates plans for annual, mid- and long-term investments in the country's road network.
Ho Chi Minh City to pilot tourist electric cars in April
Ho Chi Minh City will launch an electric car tourist service in the downtown area on a pilot basis in April, according to the local Department of Transport.
The department has said that 10 eight-seat electric cars will be deployed for this service in its initial stage.
The cars will carry visitors to the city's major tourist attractions in the downtown area, including Ben Thanh Market, the Municipal Theater, People's Court Mansion, Saigon Notre-Dame Cathedral, Saigon Central Post Office, Reunification Palace, and Saigon Zoo and Botanical Gardens.
The specific route is as follows: 23/9 Park-Nguyen Trai-Le Lai-Ben Thanh Station (in front of Ben Thanh Market)-Le Loi-Hai Ba Trung-Le Duan-Nguyen Binh Khiem-Nguyen Thi Minh Khai-Mac Dinh Chi-Le Duan-Pasteur-Vo Van Tan-Le Quy Don-Nguyen Thi Minh Khai-Nam Ky Khoi Nghia-Le Thanh Ton-Phan Chu Trinh-Tran Hung Dao-Pham Ngu Lao-23/9 Park.
The cars, to start running on a pilot basis on April 30, will operate from 8:00 am to 5:30 pm every day, with intervals of 30 minutes.
The maximum speed is expected to be less than 40km per hour and a car can travel 100 kilometers once fully charged.
Tickets cost VND20,000 (US$0.9) apiece and will be on sale at 23/9 Park in District 1.
Groups of tourists can also hire the cars in three-hour packages costing VND600,000 ($28) each.   
The model of tourist electric cars has earlier been adopted in four other places in Vietnam, namely Hanoi, Sam Son Town in northern Thanh Hoa Province, Dong Hoi City in central Quang Binh Province, and Cua Lo Town in central Nghe An Province.
Vietnamplus cited Deputy Transport Minister Le Dinh Tho as saying at a November meeting that the use of electric cars has boosted tourism and helped curb the number of motorbikes and cyclos – bicycle taxis that are a sort of pedicab having one or two passengers in a seat in the front and the driver pedaling in the rear – in use at tourist attractions.
Hanoi, which is the country's first city to pilot electric cars in its Old Quarter and around Tay Lake, has seen an enthusiastic embrace among locals and tourists since launching the service three years ago.
The electric cars have transported more than 1.2 million visitors and generated over VND20.4 billion ($950,694) in revenue. 
Tho added the electric cars are also of great benefit regarding energy conservation, considerable drops in noise and air pollution, and nurturing the habit of walking and using public transport.
The small-sized vehicles which attain speeds of less than 40km per hour are just perfect for urban traffic and help preserve the architecture and milieu of Hanoi's Old Quarter.
Such improvements as environmental protection, traffic safety, and job provision have been seen in Sam Son, Cua Lo, and Dong Hoi.
According to the Ministry of Transport's statistics released in November last year, the four above-mentioned places currently boast a total of 621 electric cars, including 50 in Hanoi.
Thanh Hoa to build houses for underprivileged families
Over 3,000 households in flood-prone areas of 17 districts and towns of the northern central province of Thanh Hoa will receive financial assistance for building flood-and-storm resistant homes.
The goal of the provincial Construction Department's project is to be carried out from December 2014 to 2016 in line with the Prime Minister's Decision 48/2014/QD-TTg dated August 28, 2014.
The project has a total investment of VND178 billion, of which over VND44 billion will come from the State budget, more than VND50 billion will be sourced from preferential loans, while the community and beneficiary households will contribute the remaining VND66 billion.
The 'For the Poor' Fund will also donate VND16 billion to the programme.
Beneficiary households will receive financial assistance in cash with amounts ranging from VND12 million, VND14 million and VND16 million, depending on the region.
They are also able to apply for loans of up to VND15 million from the Bank for Social Policies.
Since 2009, Thanh Hoa has effectively implemented Programme 167 on housing support for underprivileged households, which has built 32,490 houses from VND793 billion.
The province also completed a project on building flood and storm shelters benefiting 100 households.
State programme helps ease poverty in Central Highlands
The Steering Committee for the Central Highlands said the regional provinces have worked together to mobilise nearly 3.8 trillion VND (177.1 million USD) to improve infrastructure and production in impoverished ethnic-minority communities.
This financial assistance has been sourced from Programme 135, a multi-phase national strategy on poverty alleviation targeting impoverished and mountainous communes which has produced a number of positive outcomes.
As many as 92 communes have elevated their socioeconomic status as a result of their participation and completion of the programme's first two phases.
Currently, 100 percent of targeted communes have elementary school facilities, including roads connecting to their locations, 80 percent have secondary schools, and 70 percent have a radio broadcast station.
The programme has also established 245 irrigation and 141 electricity projects in disadvantaged areas.
In a bid to improve livelihoods and local household production, 354,502 tonnes of seeds and 17.2 million saplings, as well as 40,264 tools and pieces of equipment for production and processing in the agro-forestry-fisheries sector, were made available in needy areas of the region through this state support.
A major priority of the poverty alleviation efforts has also been to develop effective agro-forestry-fisheries production and organise annual vocational training courses for locals.
Moving forward, the Steering Committee for the Central Highlands has proposed the Government raise the investment dedicated to each impoverished regional commune under Programme 135 from 1.5 billion VND (69,903 USD) to 2.5 – 3 billion (116,506 – 139,808 USD) annually.
The Tay Nguyen Central Highlands region is comprised of five provinces - Dak Lak, Dak Nong, Gia Lai, Kon Tum and Lam Dong.
Children, elderly in Tien Giang equipped with swimming skills
As many as 350 children and elderly persons in the Mekong Delta province of Tien Giang were equipped with swimming skills via seven classes held with assistance from Australian volunteers.
This is the fourth year members of the AWSOM volunteering group have opened classes of this kind in Tien Giang, with the help of province's Union of Friendship Organisations and relevant agencies.
The classes, running from January 4-9, are also part of a programme on preventing and reducing drowning on Mekong River in 2015.
Bev Chrismas, founder of the AWSOM Group, said the learners are taught how to swim properly and react if falling into water.
The right way to save a drowning person is one of topics discussed in the classes along with skills for children to survive in a region with many water bodies and rivers.
The volunteers also held workshops for parents and My Tho city's Association of the Elderly on why it is necessary to have swimming and rescue skills.
Drowning is one of the leading child killers in Vietnam, with over 3,300 deaths in 2012, equivalent to about nine cases every day. The figure is 10 times higher than the average figure of regional developing countries. Half of the victims were bathing in ponds, lakes, rivers or the sea without adult supervision.
VNN/VNA/VNS/VOV/SGT/SGGP/ND