VietNamNet Bridge – The Civil Aviation Administration of Vietnam (CAAV) says that the Boeing 727-200 that has been left at the Noi Bai International Airport in Hanoi for seven years will be auctioned in the near future.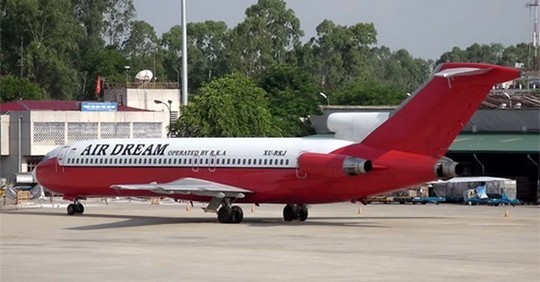 This aircraft has been parking at Noi Bai Airport since 2007.
Luu Van Doan, head of the CAAV's Legal Department, said the agency would set up an auction council to sell the Royal Khmer Airlines (Cambodia) aircraft, which was left after a flight from Cambodia had a technical malfunction.
Doan said CAAV informed Cambodian authorities of the auction decision three times, sending requests to the Royal Khmer Airlines, asking them to remove it out of the airport and pay the related fees for the parking. But they did not answer.
CAAV said the liquidation and auction of planes is new in Vietnam. The aircraft may be sold fully or in parts. However, all airlines in Vietnam do not use Boeing 727, so they may not want to buy its components.
As the aircraft is obsolete, it may be auctioned as scrap. The revenue will be deducted from the auction procedure cost and $605,800 of parking fees.
The auction will be held publicly for individuals and organizations.
Several years ago, Tan Son Nhat airport auctioned an abandoned Boeing 707. An individual bought it and turned it into a café.
Ly Hai