VietNamNet Bridge - The Ministry of Transport has asked the Civil Aviation Administration of Vietnam (CAAV) to reconsider the evaluation criteria used to determine the quality of service at the two airports of Noi Bai and Tan Son Nhat, and to evaluate the quality of services at the airports.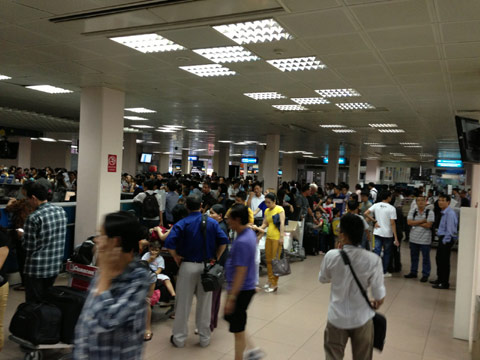 Tan Son Nhat Airport.
The instruction was made after The Guide to Sleeping in Airports website published the list of the worst airports in Asia in 2014, which included Noi Bai and Tan Son Nhat.
Talking to the press, Minister of Transport Dinh La Thang also said that Noi Bai and Tan Son Nhat were overloaded, and lacked seats for passengers who wait for connecting flights, and offered poor services.
Thang asked the CAAV to review the good and bad features of the airports to improve service quality.
The Guide to Sleeping in Airports list was based on votes from visitors all over the world. The evaluation was based on convenience, comfort, hygiene and the quality of customer service at airports.
Last year, Noi Bai was also named on the list of poor airports and this year Vietnam had another name on the list, Tan Son Nhat Airport, which ranked eighth.
Although this airport was regarded as better than Noi Bai, the facilities at Tan Son Nhat Airport were evaluated as only average, while hygiene was seen as unstable. In addition, the problem of air conditioning and unstable wifi were disadvantages at Tan Son Nhat.
Deputy Minister of Transport urges better services at two airports 
Deputy Minister of Transport Pham Quy Tieu acknowledged the low quality of services at the country's two major international airports, Noi Bai and Tan Son Nhat.
In a meeting with aviation authorities to improve airport and non-airport services in Hanoi on October 27, he attributed the situation to the airports' weak infrastructure, staff attitudes, and operational and management strategies.
In addition to repairing and upgrading facilities, and expanding services and hygiene standards, the senior transport official asked the aviation authorities to improve staff members' attitudes and stop the confusing taxi parking situation outside the airports.
Hanoi's Noi Bai International Airport has the capacity to accommodate 9 million passengers a year, but it already catered for 11.5 million as of October 25. The airport is likely to handle 14 million passengers by the end of this year.
According to Vu The Phiet, Director of Noi Bai International Airport, once Terminal 2 is put into operation at the end of this year, Terminal 1, which opened in 2001, will be upgraded to meet passengers' demand.
He confirmed he would install cameras to supervise airport staff and strictly punish violators.
The Vietnam Aviation Corporation (Vietnam Airlines) said it collaborated with Caitrax every year to assess the airport services provided at airports throughout the country.
Accordingly, services on the ground improved, but still do not satisfy passengers' needs.
Caitrax said Noi Bai and Tan Son Nhat airports are overloaded and lack conveyors and trolleys, taking up passengers' time.-VNA
Minh Hang