VietNamNet Bridge – Finland's Minister of Economic Affairs said yesterday (Oct 21) that his country would help Viet Nam achieve ambitious targets for smart and green cities by providing assistance in sustainable urban planning, industrial design, clean technologies and digital services, along with education and training.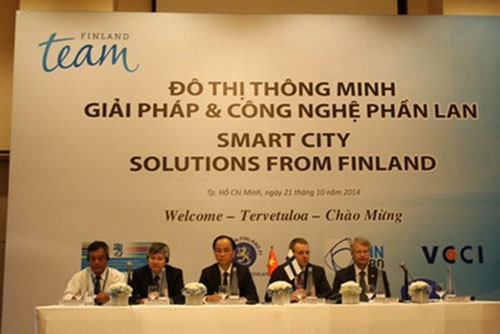 The seminar held in HCM City yesterday. — Photo hochiminhcity
Speaking at a seminar held in HCM City, Jan Vanpaavuori said that smart cities used innovative solutions to energy, environment, digitalisation, transportation and habitation to make everyday life easier.
"The fast urbanisation and dynamic modernisation process in Viet Nam has increased demand for energy efficiency, smart transport and modern city infrastructure. This enormous growth potential makes Viet Nam a very interesting partner in the Smart City area," he said.
Vanpaavuori said Finland had invested a great deal in demand-driven innovations and new business solutions, assisted by forward-thinking companies
While solutions can be complex and involve several fields, the focus is on smart and energy-efficient buildings, transport solutions, low-emission energy systems and intelligent city infrastructure like smart grids, heating and cooling, transportation and waste- and water-management systems.
He said the strengths of the Finnish economy and industries complemented Viet Nam's development needs and challenges.
Finnish companies have already been contributing to Viet Nam's Green City targets in a number of ventures.
The International Cleantech Venture Finland has for several years developed waste-to-energy plants in Viet Nam and has a long-term partnership with Hai Phong City and Long An Province.
By applying these proven and tested Finnish technologies and methods to municipal waste plants, Viet Nam is able to produce electricity more efficiently.
In the area of urban infrastructure development, the WSP Finland company has worked with the Viet Nam for Water and Sanitation Program for Small Towns, designing many bridges.
It has also taken part in the development of HCM City's Thu Thiem New Urban Area, which is expected to become a financial centre along with residential buildings.
Experts estimate that the population of cities will increase from 3.3 billion to nearly 5 billion by 2030.
On one hand, urbanisation can improve the quality of life by moving people out of poverty and increasing education levels, but it has negative aspects as well.
"With fast-growing and transforming cities, we are faced with challenges like air pollution, traffic problems, poor or non-existing city planning, lack of space and sustainable energy solutions. If not taken care of, at worst this leads to serious socio-economic and environmental problems," Vanpaavuori said.
Le Manh Ha, Deputy Chairman of HCM City People's Committee, said the city wanted to become a smart city by using IT in urban management.
"The city wants to access advanced technology from Finland in urban design, traffic management organisation and wastewater management so that we can create sustainable urbanisation and a growth model," he said.
Jaani Heinonen, deputy director general of Team Finland, emphasised that appropriate policies were critically important in creating smart cities as they can hasten or slow progress.
Governments should create favourable conditions for innovation, growth, entrepreneurship and education, he added.
Cross-border co-operation and interaction between different players, including users and the public and private sectors, are also important.
The Finnish delegation visiting Viet Nam represented a wide range of different fields, including ICT and clean-tech solutions.
Source: VNS