VietNamNet Bridge – Believing that they are unsafe for health, many people are now reluctant to eat fruit and vegetables.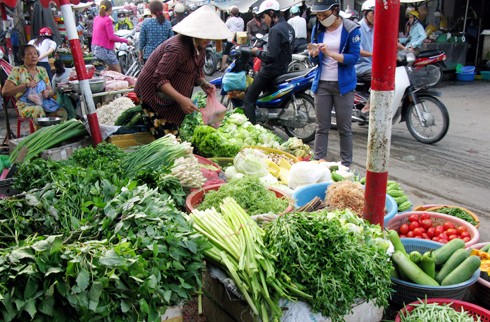 Mrs. Nguyen Thi Tho in the northern city of Thai Binh, for example, will not buy fruit sold at markets because her family suffered from fruit poisoning several times.
The past Lunar New Year, she bought some fruit. When her relatives visited, she offered the fruit to them. Both the host and guests got a stomachache after eating them.
After the incident, Tho was very careful in choosing fruit. She did not buy from traditional markets or vendors but chose instead imported fruits at supermarkets. However, Tho and her 1-year-old grandchild had a stomachache again.
Too scared of fruits in the market, since then, Tho's family has only consumed Vietnamese oranges from Saigon, supplied by her acquaintance. Sometimes she buys Vietnamese fruits like bananas, papaya and guavas from the gardens of her old neighbors in the countryside.
Mrs. Pham Thi Huong, from Hanoi, only buys sugarcane, coconuts, Vietnamese orange and bananas from her hometown in the countryside because she is sure that they are produced by local farmers.
Huong said she stopped buying fruits from markets after suffering from fruit poisoning when she was in the 7th month of pregnancy.
Many consumers are also afraid of vegetables sold at markets.
Ms. Do Thi Dinh from Doi Can Street, Hanoi no longer purchases vegetables at the market after seeing the color of the vegetable soup pot change several times. She now buys vegetables at organic vegetable shops at very high prices or directly from farmers once a week.
"Safe vegetables are expensive, so I only buy a little," Dinh said.
Fearing vegetables and fruits in the market, Mrs. Nguyen Thi Van from Hoang Mai district, Hanoi only feeds his children with pumpkins, squashes and potatoes bought from her rural hometown. Her one-year-old child was diagnosed with mineral and vitamin deficiency because the child did not eat enough vegetables. Van said she would plant vegetables at home, in boxes.
Le Ha