VietNamNet Bridge – The safety of underground structures in HCM City has been questioned after two downpours last month flooded the basement of a luxury apartment tower in Binh Thanh District and damaged six cars while one person was found dead in the flooded basement of a building under construction in District 1.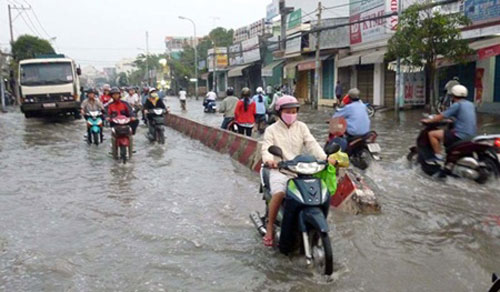 High tide causes flooding on Huynh Tan Phat Road, HCM City. The safety of many underground constructions, including the metro and parking lot are threatened due to heavy rain and floods in the city during the past weeks.
The worry comes amid plans for a series of huge underground constructions like the metro and parking lots even as the precipitation seems to be increasing significantly.
But experts dismiss the worries.
Hoang Minh Tri, deputy head of the HCM City Research and Development Institute, told Sai Gon Giai Phong (Liberated Sai Gon) newspaper, "People should not worry much about the safety of underground structures."
With the use of modern technology, all underground structures would be totally safe even in case of heavy rains, he assured.
He gave the example of the Thu Thiem Tunnel under the Sai Gon River and many other high-rise buildings around the city, which remain safe.
Following more downpours this week HCM City was flooded every day for four days from September 28, especially Districts 6, 8, and Binh Chanh. Around 170mm of rainfall fell in half an hour each time while the sewer systems can only handle 86mm per hour.
Mien Tay (West) Bus Station had to shut down temporarily after being inundated by 0.5m of water; the motorbike lane could not be used in the new Vo Van Kiet Boulevard.
These districts have got new sewer systems but based on 2001 standards.
There are 10 flooding hot spots in the city's main streets. Dykes are being built in Cu Chi district and lakes are being dug in Thu Duc and Phu Lam to prevent floods.
Referring to the buildings whose basements were flooded last month, he said the designs were probably poor.
Ho Long Phi, director of the Viet Nam National University in HCM City's Centre for Water Management and Climate Change and deputy director of the city's Steering Centre for the Urban Flood Control Programme, concurred with him.
He pointed to the serious flooding in Bangkok that lasted two months during which many streets remained under water. But the metro remained safe, he said.
"HCM City's metro system will be built using the most modern technology and floods will not threaten its safety," he assured.
Tri admitted nevertheless that, considering climate change and rising sea levels, "the flooding in HCM City should be stopped to ensure the safety of underground constructions."
He said that with protective walls the city's metro would only be affected by floods of above a certain level.
But he also warned that designs become obsolete quickly. He pointed to one instance of that the city has already witnessed: the Nhieu Loc – Thi Nghe, Tau Hu – Ben Nghe canals.
Completed not long ago, they are designed to drain 80-85mm rainfall falling in three hours. But last month's downpours dumped double the volume of water in just half an hour.
Digging more lakes and establishing a pumping system need to be done immediately, Tri said.
A flood control master plan drafted 20 years ago with support from the Japan International Cooperation Agency identified many areas that were to have lakes.
This was confirmed by the city's construction master plan for up to 2020 approved four years ago by the Government. But not a single new lake has been dug since.
"The safety of underground structures also depends on the macro solution to control flooding," Tri said.
VNS/VNN