VietNamNet Bridge – It has been the tradition for generations of girls of Ro Coi Commune to tie the nuptial knot while still under the age of 18.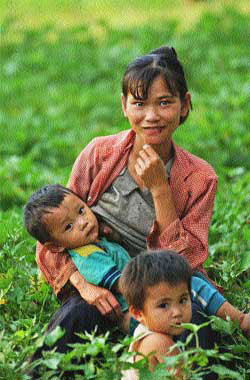 Young mother: This 16-year-old mother in the Mekong Delta's An Giang Province has two children. Child marriage is increasing in the region. 
It therefore comes as no surprise that the commune has become a hotspot for having the highest number of child marriages in Kon Tum Province's Sa Thay District.
Figures from the commune's medical clinic showed that 10 child marriages took place in the commune in the first six months of 2013 while 12 such marriages in 2012, and nearly 50 by end-April 2011.
Child marriage has made a good number of teenagers become parents. For example, Y Hang, 18, is the mother of a two-year-old child. Her sister Y B'Riu, was married when she was 16, and is now the mother of two children, the eldest of them aged seven.
"Our Xo-dang people get married when we are very young. No man wants to marry a girl who has passed the age for marriage," Y Hang explained.
"There are 12 mouths to feed in our family, whereas we are allocated only 1,000 square metres of land for growing cassava, thus the lack of food happens all year round," she said.
The custom of marrying while still young, apparently for couples to take part in the family workforce, has nothing to do with rice cultivation. Child marriage has been seen as locking people into a vicious cycle of poverty that inextricably links illiteracy with early labour.
As many as 703 of 1,101 households in the commune are living below the poverty line of VND550,000 (US$26) per month. Many of them are the outcome of child marriages.
Y Pah, former Deputy chairman of Ro Coi women's organisation, said local authorities have not allowed marriages of young teens, but many of them have turned a deaf ear to sound advice and dropped out of school to get married.
Since their marriages are not officially accepted, they are not entitled to certificates. They are also not allocated extra farm land, and as a result, many of them end up struggling to make ends meet.
Early marriage also has devastating consequences on the health of a young woman and her children.
"Many girls have already given birth to two children by the time they are 19. They are not so well-off because their young bodies are not fully developed to bear children. As a consequence, they can't work effectively and are living in poverty," Y Pah said.
According to the Kon Tum Department of Population and Family Planning, an estimated 269 of 333 people polled were married and had children at a young age, and nearly 77 per cent of marriages in the province were between underaged boys and girls.
Common practice
Child marriage remains widespread in the mountainous provinces of the North, Northwest and Central Highlands of Viet Nam, and this has had a negative impact on the lives and livelihood of young girls.
A study conducted by the General Department of Population and Family Planning in 15 cities and provinces showed that the proportion of child marriages against total marriages was high in Ha Giang at 5.72 per cent; Cao Bang, 5.1 per cent; Lao Cai, 2.7 per cent; and Son La, 2.6 percent, as well as Quang Tri at 2.4 per cent and Bac Lieu at 2.1 per cent.
The study also showed that 30.7 per cent of respondents were married under the age of 19 while 0.2 per cent were married under the age of nine, 0.3 per cent at 14, one per cent at 15, and 3.3 per cent at 16. Exactly 5.8 per cent were married at 17.
Dang Dung Chi, director of the Ho Chi Minh National Academy of Politics and Public Administration's Viet Nam Institute of Human Rights, noted that the number of early marriages also increased in the plains and rural areas, particularly in the Hong (Red) River Delta provinces of Bac Ninh, Hai Phong and Thai Binh, as well as the Cuu Long (Mekong) River Delta provinces of Tien Giang and Can Tho.
"Child marriage is a disturbing and alarming issue that is taking place not only in mountainous provinces but also on a nationwide scale," Chi said.
In the Mekong Delta, for instance, early marriage has increased, with most brides at recent weddings ranging from 13 to 16 years old. In some cases, bridegrooms were only 14, said Dr Trinh Thi Kim Ngoc of the Viet Nam Academy of Science and Technology.
These marriages are low-profile, solemnised in secrecy and under-reported. They only come to local authorities' attention when the couple have children, Ngoc added.
Worse, there is growing evidence that child marriage and maternal health are inextricably linked. International studies show that girls who give birth before the age of 15 are five times more likely to die in childbirth than girls in their 20s.
Where girls survive childbirth, they are at increased risk of pregnancy-related complications and injuries such as obstetric fistula, a medical condition in which a fistula or hole develops between either the rectum and vagina or between the bladder and vagina. Sixty-five per cent of all cases of fistula occur in girls under the age of 18.
Girls who give birth at age 18 or under face increased health risks that some experts attribute to an underdeveloped pelvic area. This poses significant risks to the health of newborn babies as well.
Children born to young couples are more likely to be underweight, malnourished or stunted in their growth. Studies show they are more likely to suffer congenital malformation than other children.
Tran Van Phong, director of the Ho Chi Minh National Academy of Politics and Public Administration's Viet Nam Institute of Philosophy, said it would be a burden for society to have a high proportion of people with physical and mental disabilities.
Phong also noted that child marriages drove a confluence of multiple factors such as gender inequality, household poverty, lack of access to education and employment opportunities, family breakups and child neglect.
These problems not only violate human rights abut also threaten stability and economic development, Phong added.
Nguyen Thi Tu, director of the Committee for Ethnic Minority Affairs' Ethnic Minorities Department, cited the stark reality that many parents and young couples have to work hard to pay for debts arising from expenses incurred at wedding parties.  
Hard work and fatigue have added more pressure to the marriages and placed many young people in conflict with their spouses, Tu said.
Reasons behind...
Under Viet Nam law, the minimum legal age for men to get married is 20 and for women, 18. People who marry and live together as husband and wife while below legal age are classified under the category of early marriage.
There are various reasons for early marriage, including customs and tradition, poverty, illiteracy, demand for household labour and unemployment.
A survey conducted in 2009 by the Department of Population and Family Planning among the ethnic Mong and Dao families in Lai Chau and Cao Bang provinces showed that most brides in early marriages were a few years older than their bridegrooms. Most of them had dropped out of school and joined the workforce early.
According to the survey, demand for more labour in bridegrooms' families was the main reason behind 54 per cent of the marriages.
Tradition also has a hand in child marriage. The K'rong and B'rau ethnic people in Kon Tum Province's Bo Y Commune believe that boys and girls are mature enough for marriage at the age of puberty. The practice has been ongoing for generations and is not subject to law.
"They get married because they are truly in love, which is much better than having premarital sex with each other before marriage. They get married early to stabilise their lives and work for a better living, so it's good," said a K'rong senior citizen.
Ngoc cited a limited understanding of the Family and Marriage Law as another reason that bars ethnic people from abandoning the practice of early marriage.
VNS/VNN