VietNamNet Bridge - Traffic congestion, along with flooding, is a serious problem in HCM City that has been difficult to solve.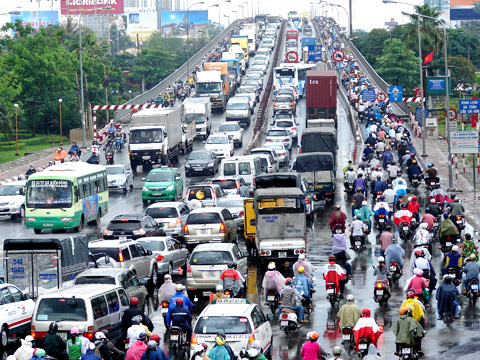 Environmental pollution, traffic congestion, immigration are also big problems that are challenging the development of big cities in Vietnam, particularly HCM City.
All of these challenges show the backwardness of Vietnam because other cities in the region solved these problems decades ago.
These  problems and challenges faced by big cities were discussed at the international conference "Opportunities and challenges for sustainable urban development" held on September 15 in HCM City, with the participation of 71 scholars from Japan, France, Malaysia, the Philippines, Nepal, Laos and Vietnam. The conference was one of the largest on urban development issues held in Southeast Asia this year.
Traffic jams and flooding
Speaking on the sidelines of the workshop, Prof. Nguyen Minh Hoa, head of the Urban Studies Faculty of the HCM City University of Social Sciences and Humanities, said: "Every city in the world undergoes certain stages of development and has to face different challenges. In Vietnam today, specifically Ho Chi Minh City, the biggest challenges are traffic jams and pollution - the problems that other cities in the region settled 15-20 years ago, even 30 years ago. For many reasons, the most notable one is that we do not learn from the experience of other countries."
In his presentation, Mr. Hoa said: "Currently, the total surface area for traffic in Ho Chi Minh City accounts for only 1.7% to 2% of the total area of urban land. Meanwhile, annual losses due to traffic congestion in the city are estimated at about VND23 trillion, equivalent to $1.2 billion, a huge number. Therefore, traffic congestion is one of the most serious and most difficult-to-resolve problems in HCM City today, besides flooding."
Prof. Hidefumi Imura, a Japanese expert on urban development and ecological sustainability from Yokohama City University, received criticism from other experts about his remarks on the feasibility of developing a metro system in Vietnam.
The question was whether there is sufficient infrastructure to ensure no flooding, and whether the funding will increase compared to the original estimates.
"For cities with a population of millions, the construction of transport systems such as a metro system is inevitable. Only in cities with a small population like those in Europe, the bus and tramcar systems are maintained in the long term," Prof. Imura Hidefumi said.
"Twenty years ago, when I worked with experts in Bangkok and Shanghai, they all said that the construction of the metro system in these cities is completely impossible, especially in Bangkok, where the ground is low and flooding is frequent. But now they all have very modern and convenient metro systems. It all stems from a sense that the urban transport system of high quality will bring many benefits," he added.
However, he also noted that the development of the metro system should also preserve the cultural and historical values as well as the environment of the city.
Potential for "smart cities"
Several experts proposed a new direction for developing cities like HCM City:  the "smart city", defined as a city with an efficient management system of natural resources, based on technological and scientific advances.
Dr. Masahiko Nakanishi of Yokohama City said: "Many people believe that technological development will make people forget the factors related to society. However, in Japan, there are many community-oriented technological applications such as smart means of transport for the disabled and an electricity system that automatically shuts off. The next challenge that we are interested in is promoting the combination of human intelligence and technology infrastructure."
Prof. Imura Hidefuma also said: "I noticed that Vietnam in general and HCM City in particular have great potential to become a smart city as you have adapted very quickly to information technology, mobile phones. ... However, to go from individual adaptation to wide application in public life, of course, we need investment and thorough studies of technology as well as economic resources."
Thu Ly