VietNamNet Bridge – To encourage people to read books, many individuals have opened libraries to the public free of charge. In Hanoi, these libraries have become useful places for local people, helping revive the love of reading at a time when the traditional thirst for reading seems to have eroded.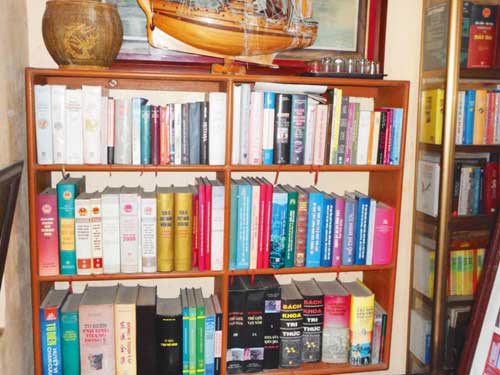 Hung Phuc library in Dong Mai Ward, Ha Dong District also attracts a large number of people – Photo: Bao Tin tuc
In Binh Vong Village, Van Binh Commune, Thuong Tin District, there is a private library where readers can find up to 6,000 book titles and seven kinds of newspapers.
The library opened in 1999. It has welcomed a large number of local readers and for many of the readers, going to the library has now become a habit.
"I can get updated news through reading books and newspapers here, said 88-year-old Tran Dinh Lan. "Old people like me often go to the library. It is also a way to encourage young people to go to this place."
Launched in 2005, Hung Phuc library in Dong Mai Ward, Ha Dong District also attracts a large number of people, most of whom are students.
The two-story library includes about 4,000 book titles. On the first floor are 2,500 popular books, from the fairy tales of Vietnam to encyclopaedias. The second floor comprises academic books, including ones on Marxism, Leninism and oriental and western philosophy.
Le Anh Tuan, a student from Dong Mai ward, said: "I often go to Hung Phuc library. It offers me a wide range of knowledge. I have never seen a library with as many books as this."
The library's owner, Nguyen Xuan Chin, said he opened the library as he wants to make full use of books as a tool for education and entertainment. However, according to Chin, the number of readers to his library is declining, which makes him unhappy.
Chin said since the Internet became popular in 2009, fewer visitors came to his library than in the previous years. Now readers going to the library are mainly the elderly. But he also said he thinks that people should keep their habit of reading books as they contain a wide range of knowledge.
In recent years, t he phrase "reading culture" has been mentioned a lot by many Vietnamese people, particularly book compilers and educationists, who believe that the traditional thirst for learning and reading seems to have eroded, especially among the youths .
A recent survey by the Vietnam Publishers' Association (VPA) showed that on average, each year one Vietnamese reads less than one book from the library.
Another survey conducted at some universities in Hanoi by the Vietnam Institute of Social Science revealed that only about 10 percent of students living in college dormitories, and 20 percent living with their families, read daily newspapers and books regularly.
According to the VPA, Vietnam has more than 60 publishers nationwide, one national library, 63 city and provincial level libraries and thousands of community libraries.
There are also many private libraries and book collectors. In 2013, nearly 25,000 book titles with 274 million copies were published, compared to 16,500 titles and nearly 190 million copies in 2012.
Source: Vietnam Plus