VietNamNet Bridge – Many farmers in the Mekong Delta are still living in poverty and finding it hard to own a home though they have contributed significantly to raising the nation's rice, fruits and seafood production.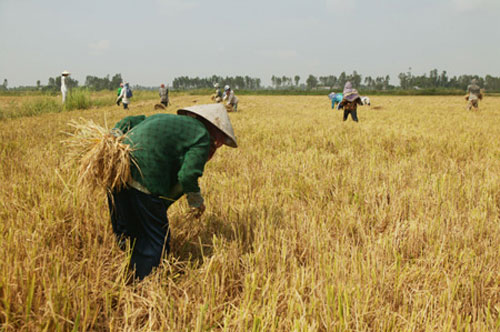 Many farmers in the Mekong Delta are still living in poverty -- File photo
Poverty is one of the reasons for the uncontrollable migration of farmers in the Mekong Delta to other parts of the country, heard a working session between the Party Central Committee's Economic Commission and relevant agencies in the Mekong Delta on Monday.
Duong Quoc Xuan, deputy head of the Southwest Steering Committee, told the working session that farmers in the country's key rice growing area are considered the poorest in the country and the poverty rate there is higher than in the northwestern and the central highlands regions.
Explaining the reasons for poverty in the delta, Tran Huu Hiep, head of the Southwest Steering Committee's Economic Division, said agricultural production is highly vulnerable as it is often affected by natural disasters and consumption is unstable. Therefore, farmers can easily relapse into poverty when agricultural production is in jeopardy.
Statistics showed the Mekong Delta had a population of nearly 17.5 million last year, accounting for 19.6% of the nation's total. Up to 75.15% of them were living in rural areas in the region and unemployment was 3.5%.
The population in the Mekong Delta has declined in recent years as locals of working age have left the region for urban and industrial areas, especially in HCMC and southeastern provinces, to find jobs.
More than 65,700 households in 11 Mekong Delta provinces are in dire need of decent housing. In addition, 12,300 Vietnamese Cambodians who had lived in the neighboring country for many years now want to settle down in their homeland, particularly in An Giang, Dong Thap, Kien Giang and Long An provinces.
A the meeting, the Southwest Steering Committee proposed the Government come up with supportive housing programs for poor households, upgrade education and training facilities, have appropriate policies to fuel economic growth and raise living standards in the region. Funds should be allocated to the priority projects for climate change adaptation already approved by the Government, with the Mekong Delta having 17 projects worth more than VND5 trillion.
Dinh Van Cuong, deputy head of the Party Central Committee's Economic Commission acknowledged many challenges to implement the policies of the Government. Therefore, it is necessary to build a joint collaboration mechanism for the two bodies to address the issues in the region.
SGT/VNN