VietNamNet Bridge – The Social Insurance Agency of Binh Duong Province has found itself having to pay social benefits to a record number of workers.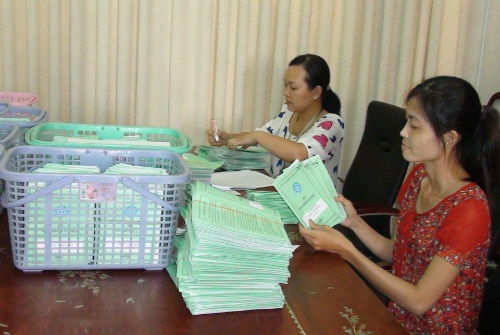 Employees of the Social Insurance Bureau of Binh Duong Province.

Mr. Bui Huu Phong, the director, said his agency is working with the riot-stricken firms to assist unemployment and social insurance beneficiaries.
Phong said that about 60,000 workers in Binh Duong are affected by the recent riots since their factories cannot resume operation immediately. Of these, 40,000 are considered eligible for unemployment benefits and 20,000 others will be paid one-time social benefits.
The official said that the agency had proposed that a doubling of the time for payment of unemployment benefits to the affected workers. "The workers will be paid unemployment benefits worth approximately 60% of salary," he said.
This agency also asked Vietnam Social Insurance to exempt the affected firms from paying interest for late payment of social, health and unemployment premium.
In the recent disturbances, hundreds of businesses in Binh Duong were affected by extremists. Twelve firms were completely burned, making tens of thousands of workers jobless.
Binh Duong authorities are urgently conducting field investigations and damage appraisals to determine the appropriate support policies for the affected firms and to put on trial the extremists and agitators in the riots.
Phi Nga