More prosecuted for public order disruption at Dong Nai IZs
The People's Procuracy in Nhon Trach and Trang Bom district and Bien Hoa city, in southern Dong Nai province, approved the decision to prosecute two additional public disorder cases on May 20, with an additional 39 defendants prosecuted and temporarily detained.
Specifically, Bien Hoa and Trang Bom police prosecuted 36 defendants on public disorder charges, while Nhon Trach police prosecuted two cases with three defendants on charges of property robbery.
On the same day, Nhon Trach district police arrested three offenders, namely Nguyen Van Do, Nguyen Thanh Binh and Vo Quoc Thanh, all living in Trang Bom district, on charges of disturbing public order at Trang Bom's Ho Nai industrial zone on May 14.
As of May 20, the Dong Nai provincial police had been holding 416 people and prosecuted a total of 18 criminal cases, with 76 defendants prosecuted and temporarily detained for a three-month period.
Donations pour in for soldiers on islands
A major campaign to raise donations for soldiers stationed on islands through cellphone text messages was inaugurated at Chu Van An Senior High School in Hanoi May 19.
Nguyen MInh Tuan, Sai Gon Peninsula Corporation's director gives VND500 million to SGGP's Editor-in-Chief Nguyen Tan Phong (Photo: SGGP)
People can donate VND18,000 ($0.84) by texting the letters BD to 1409.
The Vietnam Red Cross, the Ministry of Information and Communications, Vietnam Television Corporation, and some other agencies are organizing the campaign, which will go on until July 18.
Deputy Minister of  Information and Communications Le Nam Thang called on organizations and individuals within and outside the country to support the campaign.
The money raised will be used to buy desalination equipment, communications equipment, and saplings for soldiers and others in Truong Sa and Hoang Sa Archipelagos and specialized equipment for the Coast Guard and fisheries surveillance force.
At the opening ceremony Vietnam Red Cross and the Vietnam Television Corporation gave over VND1.3 billion (US$ 61,5) to soldiers and residents in Truong Sa Island which is from the texting campaign.
People can donate in cash or kind to Vietnam Red Cross, 82 Nguyen Du Street, Hanoi, or through its account number 12010000036656 at the Bank for Investment and Development of Vietnam.
On May 19 thousands of students at Amsterdam Senior High School in Hanoi stood in an S –shape to represent the Vietnamese map and show their support for the country's sovereignty over its seas and islands.
Teachers and students also gave donations to support soldiers who are protecting the country's sovereignty.
Many schools in Hanoi organized activities focusing on the islands.
Cao Xuan Hung, deputy director of the Department of Education and Training in the northern province of Nam Dinh, said at a flag hoisting ceremony on May 19 that the current situation in the East Sea was explained to teachers and students at schools in his province to help them understand fully.
The Ministry of Education and Training had instructed its agencies to raise awareness about the country's sovereignty over its islands among teaching staff and students.
Through talks of the agencies,  students would understand more about international sovereignty laws and not to listen to incitement by saboteurs and other bad elements to breach the law.
Officials from the Department of Health in the central province of Ha Tinh called on and handed over VND10 million (US$ 473.6) to the family of lieutenant of the Coast Guard, Pham Kha Dang, in Thach Tri commune in Thach Ha District.
Dang's mother suffers from cancer and was taken to hospital in Hanoi for treatment. Dang asked for leave to visit his mother but cut it short to return to duty.
To show him the nation cares, the Ministry of Health ordered health authorities in Ha Tinh to treat his mother free of cost.
On May 19 the Pedagogy University in the central city of Da Nang organized a ceremony to President Ho Chi Minh's birthday and donated a day's salary to the Coast Guard and fisheries surveillance forces.
A film titled "To protect the country's islands" made by staff and students was screened to protest China's illegal acts in Vietnam's waters.
Representatives from the Sai Gon Peninsula Group Corporation on May 19 visited the office of Sai Gon Giai Phong newspaper to donate VND500 million for a program to support soldiers organized by the newspaper and the Navy High Command.
Nguyen Minh Tuan, general director of the company, said the company trusted the Party's leadership to protect the country's sovereignty and so contributed the money to support soldiers who are on duty to protect the islands.
On behalf of the newspaper, Editor-in-chief Nguyen Tan Phong expressed his thanks to the corporation, adding that the newspaper would convey the money and the love of the company's staff to soldiers.
A representative from Ngo Thoi Nhiem High School also came to the newspaper's office May 19 to hand over VND40 million (US$1,894) and 200 poetry books for the program.
The representative said the school had organized a talk on the country's sovereignty over its islands for its teaching staff and students.
On May 19 Satra Trading Group gave VND200 million (US$ 9,474) to fisheries surveillance forces and VND150 million to the Coast Guard, and VND50 million for repairing two ships attacked by Chinese vessels. It also donated 20 containers of tinned food for soldiers at sea.
In the last three years Satra has donated nearly VND7 billion to programs to support soldiers at sea, VND900 million to a fund for fishermen in the central provinces of Binh Dinh and Quang Ngai, and 44 radios to fishermen in the two provinces.
Vietnam Water Solution collected VND100 million (US$4,735) for a program launched by the Fatherland Front in HCMC to support fishermen, Coast Guard, and fisheries surveillance forces.
Kevin Moore, the company's director, said it wished to share the difficulties they faced.
More than 500 young people in Buon Ma Thuot town in the Central Highlands province of Dak Lak participated in a meeting on May 19 to discuss the country's sovereignty over its islands.
Lam Dong Province authorities gave VND200 million to residents in Ly Son Islands in the central province of Quang Ngai for improving their lives.
HCMC authorities mark President Ho Chi Minh's 124th birthday
Ho Chi Minh City Party Committee chief Le Thanh Hai led a delegation to the Ho Chi Minh Museum in the city on May 19 to pay tribute to late President Ho Chi Minh on his 124th birth anniversary.
The delegation included officials from the People's Council, People's Committee, and Vietnam Fatherland Front, who lit incense to pay their respects.
The dignitaries later visited an exhibition titled "President Ho Chi Minh and the resistance war against French Colonialists and historical Dien Bien Phu Victory" at the museum.
People from government agencies, companies, and schools and ordinary citizens also paid tribute to President Ho Chi Minh on the day.
Rabies spreads in Yen Bai Province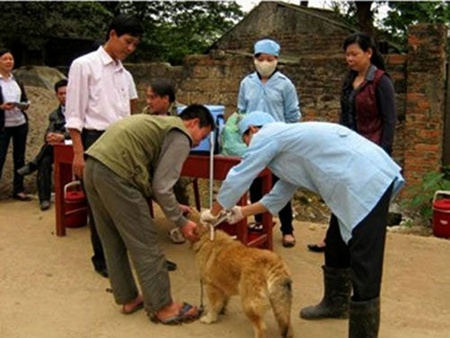 Nearly 1,900 people in the northern province of Yen Bai have been infected with rabies and three have died after being bitten by dogs since the beginning of the year.
The local authorities noted that the disease has spread in the province and has affected all districts and Yen Bai City. On average, five to six new rabies infections are being reported every day.
Le Thi Hong Van, director of the provincial Preventive Medicine Centre, said that the number of people coming for rabies vaccination had increased year over year.
She noted, however, that lack of awareness among some people, including the ethnic groups in remote areas, has had deadly consequences.
She cited the example of a 44-year-old man who was asked to go to the district medical centre for rabies vaccination after being bitten by an infected dog in March. He refused to go and instead took some medicine. He died a month later.
To prevent further spread of the disease, the Preventive Medicine Centre has requested its districts to step up preventative measures against rabies, has forbidden people from transporting dogs and cats across districts, and has asked for increased communication about the disease.
More than 1,170 ecstasy tablets seized in Kon Tum
On May 20, border guards at the Bo Y International Border Gate in Kon Tum province caught Truong Van Hai red-handed, trafficking more than 1,170 ecstasy tablets.
Authorities received a tip off on May 19, about a large scale drug trafficking ring from Laos to Vietnam.
Relevant agencies sent forces to conduct patrols and investigation and found the suspect attempting to cross the border into Vietnam at landmark 790.
Hai was born in 1986 in Quang Binh province.
This is the largest ecstasy trafficking case Kon Tum border guards have arrested so far.
The case is still under investigation.
Binh Duong vows to protect and support foreign firms
The southern province of Binh Duong pledges to ensure safety for foreign workers and investors, stabilise their operations, and prevent any repeat of the recent illegal rallies which resulted in damage to enterprises, Chairman of the provincial People's Committee Le Thanh Cung has said.
At a May 20 meeting with representatives from nearly 100 enterprises invested in by China and Taiwan (China) operating in the province, Cung said that up to 92.5% of local businesses had resumed their production by May 19.
The official revealed the damage caused by recent spontaneous disturbances, and called on foreign investors to set their mind at rest and continue their investment activities because the Government and relevant agencies have taken appropriate measures to handle the damage.
He also recommended that the affected businesses collaborate with national agencies to recover from the damage.
At the function, executive representatives from the affected foreign-invested businesses asked for assistance to repair the damage, in addition to support related to payments for workers, social insurance premiums and corporate income tax.
Vo Thanh Duc, Director of the provincial Police, said local police will soon bring the lawbreakers who caused the problems to trial on charges of destroying and appropriating assets and resisting on-duty officials.
Duc advised enterprises, especially those from abroad, to be more active in protecting their assets and to quickly team up with local forces to handle any incidents.
In related news, almost 400 enterprises invested by China and Taiwan in southern Dong Nai province have decided to pay their workers from May 14-16, although the labourers were allowed to be off on those days due to the worries about rallies and disturbances against China's illegal placement of its drilling rig Haiyang Shiyou – 981 in Vietnam's waters.
Drug trafficking trial held in Hoa Binh
The People's Court in northern Hoa Binh Province yesterday began proceedings against 26 people suspected of trafficking nearly 1,800 cakes of heroin and 1,400 ecstasy pills.
The suspects were allegedly members of a 30-member drug trafficking ring. Police are still hunting for another four suspects.
Police told the court they caught Trang A Chu red-handed in May 2011 while he was transporting 50 cakes of heroin, weighing more than 17 kilos, and 400 ecstasy pills.
During a chase by police, Chu drove his motorbike into a police car, injuring one occupant.
The Drug Crime Investigation Department, known as C47, is prosecuting the 30 suspects for trafficking drugs and illegally storing military weapons.
In another move, the People's Court in southern Tay Ninh Province yesterday sentenced three people to jail for trading in drugs.
They were Le Thanh Tien, who was given 10 years in prison; Nguyen Van Thanh, who received eight years; and Nguyen Van Hen, also eight years.
Thanh and Hen were caught red-handed last October carrying about 13 grams of drugs from Cambodia to Viet Nam.
Impressive anti-corruption initiatives rewarded
Vietnam's 19 best anti-corruption initiatives were awarded in Hanoi on May 20, and will receive funding to be more widely enforced.
Co-organised by the Government Inspectorate and the World Bank (WB), the 2014 Vietnam Anti-Corruption Initiative (VACI 2014) programme was sponsored by the UK 's Department for International Development and the Irish Aid programme.
Under the theme "Strengthening transparency, public integrity and accountability", twelve of the winners are new initiatives, while the remainder are continuing projects that won previous VACI programmes.
Each of them will receive a maximum of 300 million VND (14,300 USD) for implementation, based on the suggestions of their creators. This year's designated funding totals 5.5 billion VND (261,900 USD).
Launched in December 2013, the programme is the third event of the VACI series to honour and support anti-corruption efforts in the community.
The series assisted 34 projects in 2011 and 24 others in 2013.
Earthquake shakes Dien Bien
An earthquake measuring 3.9 on the Richter scale occurred yesterday afternoon in Dien Bien District in the northern province of Dien Bien.
The earthquake's centre was in the border area of Thanh Chan and Thanh Hung communes, said Nguyen Thai Son, head of the Dien Bien Phu City Earthquake Observation Station.
The earthquake, which lasted three to five seconds, was the fourth and strongest earthquake in the province so far this year. It did not damage infrastructure, transport or hydro-electricity plants and there were no casualties.
Volunteer soldiers laid to rest
A ceremony was held in Thanh Nua commune in the northwestern province of Dien Bien yesterday to rebury 29 sets of remains of volunteer soldiers who died in Laos during wartime.
The remains of the soldiers were gathered during the 2013-14 dry season, beginning in October, with close coordination from the Lao side.
At the burial, representatives from the Government, the Military Zone 2 High Command and Dien Bien authorities, along with local people, offered incense to the war heroes, who sacrificed their lives for the liberation of both Viet Nam and Laos.
Young workers to do electricity job
The electric and telecommunications cables in HCM City's District 1 will be placed below the ground in a pilot project by the Communist Youth Union at the Electricity Corporation and HCM City Electricity Company.
Between May 20 to October 15, cables will be buried along streets like Ly Tu Trong, Pasteur, Le Lai, Nguyen Trai, Pham Ngu Lao, Nguyen Thi Nghia, and Pham Hong Thai.
Young employees at the two companies will be nominated for the work.
Cracks appear on Old Quarter houses
Cracks were appearing in houses in Ha Noi's Old Quarter leading to subsidence following the demolition of a guest house located on Luong Ngoc Quyen Street, according to local authorities.
Vice Chairman of Hang Buom Ward's People's Committee, Nguyen Quyet Thang, said nine houses and a storehouse belonging to local residents had been affected.
A house at 11 Luong Ngoc Quyet Street was one of the worst affected and at high risk of collapsing at any time, he stressed.
The municipal Department of Construction planned to work with the developer of the guest house to survey seriously affected houses, and, if necessary, tear them down to ensure public safety, he said.
The project to rebuild the guest house at 13-15 Luong Ngoc Quyen Street received approval in 2001, and construction started in the middle of last year.
Shortly after the old guest house was taken down and new foundations put in place, cracks started to appear in nearby houses and they started to lean.
In a four-storey house at 11 Luong Ngoc Quyen Street, cracks measuring up to 4.2 metres have appeared, leaving the walls swollen and deformed.
Tran Thi Phuong Mai, the owner of the house, said nervously that more and more cracks were spreading throughout her house, and the corridor on the third storey had sunk on one side.
The metal roofing of the house was also damaged by concrete and broken bricks when the old guest house was torn down, she said.
"It's really annoying in the rainy season. Water from the roof poured down to the floors below and damaged the electrics. We had to cut the power on the upper storeys for safety reasons."
"Now we have been forced to rent a new place to live. Our business has fallen and we are worried that the house will collapse at any time."
According to Thang, vice chairman of the committee, Mai's house was not the worst case.
Late last year, the committee found that a storehouse located near the old guest house had separated from the adjacent building and was leaning to one side. The committee asked the developer to tear it down and pay compensation to the owner.
"The committee has asked the developer to survey the affected households, and in Mai's case, the investor and the construction department will hire a private firm to inspect the situation."
Thang said the findings would be announced after a week of inspections.
"We will ask locals to temporarily relocate if the situation becomes dangerous to their safety, and we will discuss compensation with the developers," he said.
UNFPA helps Vietnam redress gender imbalance
The United Nations Population Fund (UNFPA) will help Vietnam address gender imbalance and population aging, especially through communications.
UNFPA Chief Representative in Vietnam Arthur Erken made the commitment at a reception in Hanoi on May 20 hosted by Nguyen Thien Nhan, President of the Vietnam Fatherland Front Central Committee.
Erken highly appreciated Vietnam's efforts in tackling the matter, noting it is a vital threat to the country's future economic development and social welfare.
Gender imbalance is a matter of growing concern in society because millions of young men will find it extremely difficult, if not impossible, to marry a wife in the near future, he said.
In turn, Nhan echoed Erken's view, adding population aging will also lead to the lack of human resources for the growing national economy. Devising a suitable policy is crucially important to creating a happy family and society, he said.  
Nhan called on the UNFPA to support Vietnam in tackling the problem and expressed his hope that the two sides will cooperate with each other to carry out practical activities such as identifying themes related to population issues, organizing conferences, and disseminating information to people in the future.
Overseas Vietnamese request China end wrongdoing in Vietnamese waters
Vietnamese communities abroad and international friends continue to express opposition to China's wrongful actions in waters under the sovereignty of Vietnam.
Vietnamese people in Champasak province, Laos, have sent a letter to the Party, State, soldiers and people in the country, expressing indignation about the wrongdoing and provocation of the Chinese, which go against the traditional friendship between the two neighbouring countries.
The letter stressed that the entire Vietnamese community in Champasak and peace-loving people around the world demand that China immediately withdraw the Haiyang Shiyou-981 oil rig and its ships from Vietnam's exclusive economic zone and ensure that it will make no further infringement in the future that could damage Vietnam's sovereignty or destabilise security and safety in the East Sea.
The Vietnamese in Champasak expressed absolute confidence in the wise leadership of the Communist Party of Vietnam and the government, believing in the nation's solidarity and the people and military's readiness to protect the fatherland. They affirmed their willingness to work closely with people at home to protect the sovereignty and territorial integrity of the country.
* On May 18, Vietnamese people living in the Republic of Korea held a meeting to protest China's actions. The meeting took place peacefully and in accordance with the host country's laws, attracting the participation of many Korean friends and other foreigners as well as the attention of local media and the Korean people.
* The same day, in the US, hundreds of Vietnamese people living in Washington D.C and surrounding areas on May 18 gathered in front of the Chinese Embassy to protest the Chinese oil rig.
Nearly 100 overseas Vietnamese and others from New York and Boston (Massachusetts State) attended a meeting in front of the Chinese representative mission in New York to raise their voices against China's aggressive acts in Vietnam's exclusive economic zone and continental shelf.
* The Czech-Vietnam Association has issued a statement opposing China's illegal placement of an oil rig in Vietnamese waters to the Chinese ambassador in the Czech Republic, requesting that China immediately halt illegal activities, withdraw the rig and escort ships out of Vietnam's waters, and not repeat similar actions in the future.
The association also gave full support to the efforts and positive solutions of the Government, authorities and citizens in Vietnam to protect its legitimate sovereignty by peaceful means in accordance with international laws.
* Around 1,000 Vietnamese people in the UK have joined a rally to protest the illegal actions of China. Participants sang the Vietnam National Anthem and songs praising the undaunted spirit of national unity.
* In Italy, the Vietnamese community and Italian friends gathered in front of the Chinese Embassy in Rome, calling on China to respect international law and remove its oil rig at once.
* In the Republic of Cyprus, over 1,000 people, including Vietnamese employees and international friends joined a rally in the capital of Nicosia to protest China's illegal action in Vietnamese waters, which undermines peace, security and stability in the region. The large-scale rally took place in an orderly fashion and attracted the attention of local people.
* The Vietnamese community in South Africa on May 18 held a get-together in Pretoria to mark the 124th birthday of President Ho Chi Minh.
Participants showed their anger at China's illegal placement of its oil rig in Vietnam's waters. They affirmed their support for Vietnam's stance and the peaceful measures taken by Party and State to protect national sovereignty as well as peace and stability in the region.
The Vietnamese Embassy and Vietnamese community in South Africa also raised funds to support fishermen and law enforcement forces in Vietnam.
* The same day, a meeting attended by about 200 Vietnamese was held in Luanda, the capital of Angola, to raise objections against China's violation of Vietnam's sovereignty.
They donated money and gifts to send to soldiers of the Vietnam Coast Guard and Fisheries Surveillance who are on duty.
Many Angolans working for Vietnamese enterprises in the country also participated in these activities.
* The Vietnam Association of Victims of Agent Orange/Dioxin (VAVA) has recently issued a statement strongly opposing China's defiant action, which violated the sovereignty of Vietnam.
On behalf of more than 3 million Agent Orange/Dioxin victims in Vietnam, VAVA President Sr. Lt. Gen. Nguyen Van Rinh, stated that China's action was a flagrant violation of Vietnam's territorial sovereignty.
It went against agreements on fundamental principles of resolving maritime issues between the leaders of both countries, brutally trampling international law and violating the 1982 United Nations Convention on the Law of the Sea and the Declaration on the Conduct of Parties in the East Sea agreed upon between ASEAN and China in 2002, as well as threatening peace, stability, and maritime and aviation security and safety in the region and the world, and hurting Vietnam – China friendship.
The statement demanded that China remove the oil rig and escort its vessels from Vietnam's waters, and that it never repeat the same action again.
* On May 19, the Vietnam Centre for Research and Conservation of Culture and Belief held a meeting in Hanoi to protest China's illegal oil rig placement.
On behalf of intellectuals, writers and artists at the centre, Labour Hero Prof. Vu Khieu read a statement opposing China's serious violation, requesting that China withdraw its drilling rig and warships from Vietnam's waters.
The statement also called on Chinese writers, artists, intellectuals and people to raise their voice to ask the Chinese Government to respect Vietnam's sovereignty and territory and withdraw the rig and support vessels from Vietnam's waters.
It also appealed to Governments, international organisations, writers, artists, intellectuals and the peoples of foreign nations to call on China to abide by international law to build and maintain peace, stability and development in the region.
Writers, artists, and intellectuals at the centre said that they hoped that the traditional friendship of the two peoples, as well as the good sentiment of Vietnam and China's artistic circles, are kept and further developed to contribute to the protection of international law and territorial integrity of each country.
Officials concern about poverty relapse among ethnic minorities
Poverty relapse is high in ethnic minority and mountainous areas, with the rate as high as one third in particularly underprivileged communes, according to Vice Chairman of the National Assembly (NA)'s Ethnic Council Danh Ut.
He pointed out the fact at an annual forum on development of ethnic minority groups which was jointly organised by the NA Ethnic Council, the UN Development Programme (UNDP) in Vietnam and the Embassy of Ireland in Hanoi on May 19.
Ut attributed the situation to the growing development gap between areas inhabited by ethnic minority groups and other parts of Vietnam, as well as limited access to finance and health and social services. He added that overlapping policies also hinder the effectiveness of poverty alleviation efforts.
According to Son Phuoc Hoan, Deputy Minister and Vice Chairman of the Government's Committee for Ethnic Minority Affairs, the making of poverty reduction policies for ethnic minority groups need to take into account their specific cultural features so that poverty elimination targets become more feasible.
Meanwhile, UNDP Country Director Louise Chamberlain, said support policies should only aim at helping ethnic minority groups and individuals bring into play their internal resources.
Ethnic minority groups should not be considered as support beneficiaries but rather the main player of the development process who are capable of helping themselves as well as contributing to the national development, she stressed.
Proposals at the forum will be sent to the NA to serve as reference information for the drafting of measures to accelerate the development of ethnic communities.
Remains of volunteer Vietnamese soldiers repatriated from Laos
Dien Bien province in co-ordination with Military Zone 2, organised a ceremony on May 20, laying to rest the remains of 29 volunteer Vietnamese soldiers recovered from battlefields in Laos.
These remains were found and collected by a special team working in Military Zone 2 from 28 single tombs and 1 mass grave.
This is Dien Bien's first collection and repatriation of the remains of Vietnamese soldiers from Laos in 2014.
The remains were taken to Tong Khao Cemetery in Thanh Nua commune, Dien Bien district, for interment.
Vietnamese in EU condemn China's East Sea violation
Overseas Vietnamese (OVs) across Europe have staged peaceful demonstrations in protest against China's provocative actions in the East Sea in recent days.
A large number of OVs on May 18 rallied in front of the Chinese Embassy in the UK to oppose China's illegal placement of the Haiyang Shiyou-981 drilling oil rig in Vietnam's exclusive economic zone (EEZ) and continental shelf.
They raised around £5,400 to donate to law enforcement forces that are protecting the country's waters.
Unless China removes the drilling oil rig out of Vietnam's waters, they will continue to conduct demonstrations in order to help the world understand about China's violation, protest leaders said.
*** The Vietnamese People Association (VPA) in the Czech Republic on May 20 adopted a declaration, condemning China's East Sea violation. It highlighted that China seriously violates Vietnam's sovereignty and jurisdiction, and international law and belies the 2002 ASEAN-China Declaration on the Conduct of Parties in the East Sea (DOC).
The illegal action badly affects the traditional ties of friendship and cooperation between the two countries and stability and maritime freedom in the East Sea, the declaration said.
The VPA in the Czech Republic asked China to withdraw the rig and escort flotilla from Vietnam's exclusive economic zone and continental shelf and follow international law.
OVs also organised a concert on May 20 to raise funds for border coast guards who are protecting national sovereignty and territorial waters.
*** More than 300 OVs in Austria on May 18 marched in front of the Chinese Embassy in capital Vienna to protest against China's recent illegal action in the East Sea.
The march attracted much attention from local residents and international friends.
*** The same day, thousands of Vietnamese expatriates in Bratislava and Košice in Slovakia demonstrated against China, demanding it to remove the drilling oil rig out of Vietnam's EEZ and continental shelf.
They raised funds to support soldiers at home.
*** Around 4,000 OVs and hundreds of Polish friends in capital Warsaw and adjacent areas went on a march to object to China's violation.
The number of demonstrators, including Polish journalists, is ten times higher than the estimated figure. Poland's TVN24 channel covered the demonstration.
They sent a message that Vietnamese people cherish peace, but they will do their best to protect the country's legal sovereignty.
*** Nearly 1,500 OVs gathered in capital Budapest, Hungary, voicing strong protest against China's expansion policy in the East Sea.
This is the first time over the past 20 years Vietnamese people in Hungary have participated in such a large march.
They condemned China's illegal action and asked the country to end violation. They asserted that they always look fondly on the homeland and closely follow soldiers confronting dangers.
*** OVs in Berlin and adjacent areas on May 20 handed over EUR5,660 to the Vietnamese Embassy in Germany in support of the marine police, border coast guards and fishermen at home.
The money was raised at a concert held at the Asia-Pacific Commercial Centre on May 17.
Campaign aims to end child abuse
The month of June will be devoted to a campaign to stop sex abuse and violence against children.
The month, the idea of the Ministry of Labour, Invalids and Social Affairs, will feature a publicity drive and cultural and sporting events.
The media will be asked to advise the public to report offenders to authorities.
Forums and training courses will also be held for children.
Every year about 1,000 cases of child sex abuse are reported throughout Viet Nam. More than 60 per cent of the victims said they had been raped, according to ministry statistics.
Another three to four thousand cases of violence against children are also reported each year - and an average of 100 children die from their injuries, according to the Ministry of Public Security.
Nguyen Hai Huu, director of the Child Care and Protection Department, said that the difference in living standards and education levels in different areas contributed to the problem.
He said poor families often ignored their children, even when they were victims of sex abuse and maltreatment.
Moreover, pornography was now difficult to control, especially on the internet.
Vijaya Ratnam-Raman, acting chief of the Child Protection Division of UNICEF Viet Nam, said that violence, exploitation and abuse impaired a child's ability to learn and to socialise.
Waiting homes cut maternity deaths
Two waiting homes for mothers have significantly reduced maternity deaths over the past three years in the northern mountain province of Cao Bang.
Trieu Nguyet Hoa, deputy director of the provincial Reproductive Health Care Centre, said the homes, the first of their kind in the country, were set up in June, 2011, with financial and technical help from the World Health Organisation.
They were set up in Bao Lam and Bao Lac districts, which are noted for their bad roads. Until then, 70 to 90 per cent of women in the two districts, who are from the Tay, Nung, H'Mong and Dao ethnic people, bore their children at home instead of going to medical stations, said Hoa.
One maternity waiting home is in Bao Lam District General Hospital. It has five rooms and can serve 10 pregnant women. The other, in Bao Lac District General Hospital, has two rooms and can serve four pregnant women.
Pregnant women in remote areas, especially those at high risk of having a difficult delivery, can go to the maternity homes one or two weeks before their babies are due.
"While there, they receive health checks and care from medical workers," said Hoa.
Each woman staying in the maternity homes is given about VND25,000 (US$1.19) per day for meals. The money is from national, provincial and international supporting programmes.
So far the maternity waiting home in Bao Lac District has looked after nearly 200 pregnant women.
The other in Bao Lam District has handled nearly 150.
In previous years, on average, up to eight women in each district died each year during birth due to complications while giving birth at home, according to statistics.
However, Hoa said, encouraging local women to use the maternity homes was difficult because of the language barrier.
Pregnant women rarely went to medical stations for pre-birth checks so they did not know if they were likely to have a difficult delivery.
However, there are still problems getting them to attend. Most families are short of workers. If mothers go to a waiting home with a relative to take care of them, there is no one left home to cook or clean.
Most of the ethnic women are also so poor they do not have enough money to pay for travelling or meals.
Hoa suggested commune medical stations join hands with the provincial Women's Association to get more financial support for them.
President Ho Chi Minh's birthday marked abroad
The Vietnam Embassy in Sri Lanka held a ceremony marking the 124th birthday of late President Ho Chi Minh, which fell on May 19.
In his speech at the event, Ambassador Ton Sinh Thanh recapped the life and great revolutionary career of late President Ho Chi Minh, the hero of national liberation and a UNESCO-honoured world cultural figure.
It is President Ho Chi Minh who laid a foundation for the flourishing ties and friendship between Vietnam and Sri Lanka, he stressed.
On the occasion, the organising board praised participants at the ceremony, especially the winners of a quiz about the late President.
The competition, together with the construction of a statue of President Ho Chi Minh in the capital city of Colombo in late 2013 and the recent launch of a stamp collection, has enabled Sri Lankan people to know more about the late President and helped bring the two peoples closer.
Earlier, representatives of the embassy and the Vietnamese community in Sri Lanka paid floral tribute to President Ho Chi Minh at his statue in the campus of Colombo Public Library.
In related news, the India-Vietnam Solidarity Committee in West Bengal state has offered flowers at a statue dedicated to late President Ho Chi Minh.
Universal preschool education narrows growth gap: WB official
Comprehensive investment into early childhood education across Vietnam will help the country narrow the development gap among regions, World Bank Country Director Victoria Kwakwa has said.
She made the remark at a forum in Hanoi on May 20 which drew representatives from such international organisations as UNICEF, Save the Children and ChildFund, along with nursery teachers from 30 provinces.
The WB official further said that developing early childhood education will create the equality of opportunity since this is the base for children's learning in the future.
Deputy Minister of Education and Training Nguyen Thi Nghia said despite existing difficulties, Vietnam 's preschool education has covered almost all communes, helping improve the quality of child care.
As of the end of the 2012-2013 academic year, Vietnam had 13,741 nursery schools, 88 percent of which are run by the State, with 161,480 teachers.
WB expert Wendy Jarrie considered the interaction between teachers and children as the most important factor in education; therefore, equipping teachers with practical skills is necessary.
At the forum, participants discussed the preschool curriculum, the role of families and the community in child care, and education for children of ethnic minority groups and suggested proposals to raise the quality of this branch of education.
Sympathies to Serbia, Bosnia and Herzegovina over disaster
President Truong Tan Sang on May 20 sent a message of sympathy to Serbian President Tomislav Nikolic and Chairman of the Presidency of Bosnia and Herzegovina Bakir Izetbegovic over the devastating floods that the countries have faced recently.
Due to continuous rainfall in the two countries earlier this month, thousands of people have been affected by flooding.
It is estimated that over 50,000 people in Serbia have suffered from the floods and landslides, while at least five reported dead in Bosnia and Herzegovina.
President Ho Chi Minh's birthday marked in Cuba, Mexico
A floral tribute was paid to late President Ho Chi Minh at his statue in Havana, Cuba on May 19 on the occasion of his 124th birthday.
Held by the Vietnamese Embassy in Cuba, the Cuba Institute for Friendship with the Peoples and the Cuba-Vietnam Friendship Association, the event was attended by Yolanda Ferrer, head of the Cuba National Assembly's External Relations Committee, Vietnamese Ambassador Duong Minh, and overseas Vietnamese living in Cuba.
Ambassador Minh recalled milestones in President Ho Chi Minh's revolutionary cause, stating that his thoughts and principles continue to guide Vietnamese people in the country's national construction, development and defence.
He also informed participants of current tensions in the East Sea after China illegally placed a drilling rig in Vietnam's exclusive economic zone and continental shelf in early May.
The act seriously infringes Vietnam's sovereignty and jurisdiction as well as the 1982 United Nations Convention on the Law of the Sea and the 2002 Declaration on the Conduct of Parties in the East Sea, he added.
The diplomat also called on peace-lovers worldwide, including those in Cuba, to continue backing Vietnam's just cause of safeguarding its sovereignty and peace.
On the day, the Organisation of Solidarity with the Peoples of Africa, Asia and Latin America also held a seminar to mark President Ho Chi Minh's 124th birthday and the 119th death anniversary of Cuban national hero Jose Marti.
Meanwhile, representatives from the Vietnamese Embassy in Mexico also paid tribute to the late President at his statue in the Peoples' Park in Mexico City .
On this occasion, National Coordinator of the Mexican Labour Party Alberto Anaya Gutiérez, who is also head of the Mexican-Vietnamese Friendship Parliamentarians' Group, visited doctors of Vietnam's Central Acupuncture Hospital, who are on a working visit in Monterrey city.
He reaffirmed his consistent stance of supporting Vietnam's sovereignty, adding that he hopes the East Sea issue will be solved through dialogue and on the basis of international law.
Workshop seeks to develop renewable energy
Effectively developing renewable energy in Vietnam was the focus of a workshop hosted by the Energy Department under the Ministry of Industry and Trade in Hanoi on May 20.
As part of the activities organised in the National Energy Development Strategy for the 2011 -2020 period, the event brought together seven leading French businesses operating in the field, who shared experience in producing new energy sources in their country.
In his speech at the event, Deputy Minister of Industry and Trade Le Duong Quang said Vietnam, with its advantageous geographical position and climate for agriculture, possesses enormous potential for the development of new energy sources such as hydroelectricity, biomass, wind and solar power, geothermal energy and biological fuel.
However, Quang added that the exploitation and use of renewable energy in the country is limited, accounting for only 6.3 percent of the total energy volume for producing electricity.
Participants said new incentive policies should be created to promote investment in the field.
France is considered as one of the countries that has the technological and financial strength for developing renewable energy, especially wind and solar power. Therefore France 's expertise is useful for Vietnam in the field.
At the event, Francois Greaume, a representative from France's Agency for Environment and Energy Management, shared his country's "Feed-in-tariff" policy in developing renewable energy, which subsidises wind power projects on the mainland.
Preventive measures needed to stop spread of MERS
The Ministry of Health has recommended preventive measures against the Middle East respiratory syndrome Coronavirus (MERS-CoV) that is spreading in many countries around the world.
The ministry's Preventive Medicine Centre advised people to minimise direct contact with acute respiratory syndrome patients, while maintaining personal hygiene and living in an airy environment.
Those who come to or return from countries with MERS-CoV should apply intensive measures to prevent the dangerous infectious disease, it recommended.
The centre added that people should immediately get to a healthcare centre if they have symptoms of fever above 38 degrees, breathing difficulties or a bad cough.
According to the World Health Organisation (WHO), as of May 17, there were 537 MERS infections reported in 19 countries, with 145 deaths.
WHO warned that the disease is likely to continue spreading to other countries due to affected people travelling. However, it has yet to advise any special inspections at border gates or travel restrictions in affected countries.
MERS is a viral respiratory disease caused by a rare coronavirus that was first identified in Saudi Arabia in 2012. Coronaviruses are a large family of viruses that can cause diseases ranging from the common cold to Severe Acute Respiratory Syndrome (SARS).
A typical case of MERS consists of a fever, cough and shortness of breath. Pneumonia is a common finding on examination. Gastrointestinal symptoms, including diarrhoea, have also been reported. Severe illness can cause respiratory failure that requires mechanical ventilation and support in an intensive care unit. Some patients have had organ failure, especially of the kidneys, or septic shock.
Approximately 27% of patients with MERS have died. The virus appears to cause more severe diseases in people with weakened immune systems, older people, and those with such chronic diseases as diabetes, cancer, and lung disease.
VNN/VNA/VNS/VOV/ND/SGGP