VietNamNet Bridge – The Hanoi People's Court resumed the trial of Nguyen Duc Kien, a former vice chairman and founding member of Asia Commercial Bank (ACB), and his accomplices on May 20 after more than a month's delay.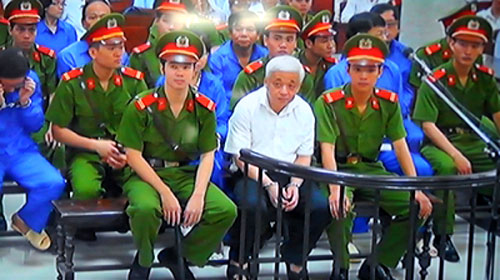 Defendant Nguyen Duc Kien (in white) at the morning trial session 
The municipal court began the trial on April 16 to hear alleged charges of fraud, but then decided to postpone it as one of the defendants, former ACB Chairman Tran Xuan Gia, was absent due to poor health.
Deputy Chief Judge of the municipal court Nguyen Huu Chinh is presiding over the hearing while the representative from the municipal People's Procuracy claims the right to prosecute in court.
As many as 20 defence lawyers are participating in the defence, with four of them representing Kien. Witnesses and other relevant people have been summoned to court, while defendant Gia remains absent due to poor health conditions that has been certified by the judges.
Under the indictment of the Supreme People's Procuracy, Kien has been charged with four counts: unauthorised trading, intentionally violating the State's regulation on economic management causing serious consequences, fraudulent appropriation of property and tax evasion.
Former Director Tran Ngoc Thanh and former Chief Accountant Nguyen Thi Hai Yen of the Hanoi ACB Investment Company were indicted on the charge of fraudulent appropriation of property.
Former ACB chairman Tran Xuan Gia; former vice chairmen Le Vu Ky, Trinh Kim Quang and Pham Trung Cang; former ACB Chief Executive Officer Ly Xuan Hai; and former board of directors member Huynh Quang Tuan were all prosecuted on the charge of intentionally violating the State's regulation on economic management causing serious consequences.
The indictment stated that in 2007, Kien suggested the ACB Board of Directors establish the ACB Founding Council, upon which he subsequently served as vice chairman. Despite the disapproval of the State Bank of Vietnam (SBV), Kien, acting as vice chairman and representing a group of shareholders who accounted for 9.03% of ACB's charter capital, controlled all ACB administration and management activities.
Kien set up six businesses in which he served as chairman. Although these companies were not licensed, Kien allegedly engaged in illegal gold trading and financial investments totaling nearly VND21.5 trillion.
From June to September of 2011, these former executives approved authorisation for 19 ACB staff members to deposit more than VND718.9 billion in Vietinbank branches in Nha Be and Ho so that they could enjoy higher interest rates. The deposited money was appropriated by Huynh Thi Huyen Nhu, a former Vietinbank official, and her accomplices, who have already faced prosecution for fraudulent appropriation of property.
The indictment also identified Pham Trung Cang, Nguyen Duc Kien, Tran Xuan Gia, Ly Xuan Hai, Le Vu Ky, Trinh Kim Quang and Huynh Quang Tuan as having advocated using ACB clients' money to send to other credit institutions, causing total losses of nearly VND1.7 trillion.
In the morning session, the jury carried out the verification of defendants' identities.
The trial is scheduled to take place in 15 days.
 Source: Nhan Dan