The Supreme People's Court has upheld the death sentence given to Duong Chi Duong, a former chairman of shipping company Vinalines.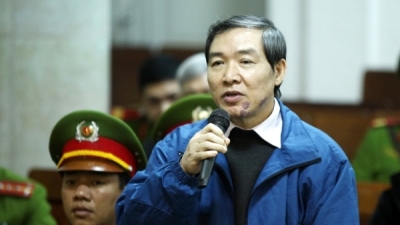 Duong Chi Dung at the trial.
The final verdict was announced on May 7, after it was delayed late last month as the appeals court conducted more hearings on the case.
The court also upheld the death sentence for Mai Van Phuc, general director of Vinalines. Other accomplices received prison terms between four and 22 years.
Dung, who is also a former director of the Vietnam Maritime Administration, was charged with embezzlement and intentionally violating State regulations on economic management causing serious consequences.
Court documents said Dung and his accomplices violated a number of regulations when purchasing an unusable floating dock from a Singaporean company for US$9 million, much higher than its real value of only US$2.3 million.
Dung and three others - Mai Van Phuc, Tran Huu Chieu and Tran Hai Son - also appropriated nearly US$1.7 million from the deal.
Dung was arrested in September 2012 after months on the run since the warrant for his arrest was issued on May 17, 2012.
The Duong Chi Dung trial is one of the highest-profile corruption cases to be brought to court in recent years as Vietnam intensifies its effort to combat corruption.
Earlier this week, General Secretary Nguyen Phu Trong told a national convention on corruption that graft prevention and eradication are important tasks in the sustainable development of the country and the regime.
VNN/Nhandan