VietNamNet Bridge – It will take at least a week to repair the broken Asia-America Gateway (AAG) undersea cable which connects Viet Nam with other countries for Internet access.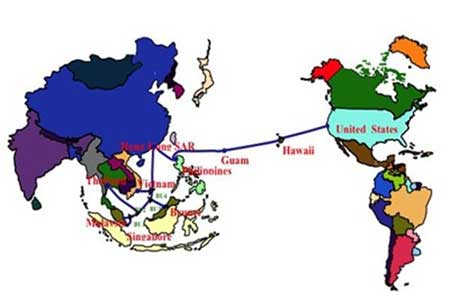 A map of AAG undersea cable system connecting Southeast Asia to the US. On December 20, its cable line from Viet Nam to Hong Kong was found cutout 278 kilometres off the coast of Vung Tau central city.

This information was provided by Nguyen Hong Hai, deputy director of the Viet Nam Datacommunication Company (VDC).
He said the repair could take up to two weeks depending on the weather conditions and procedures that allow AAG's cable-wielding ship into the waters where the cut-cable lies. After soldering the cut in the cable, technicians have to check the whole system to make sure it will work, so it will take time for Internet communications to work normally, he added.
The cable system was found cut 278 kilometres off the coast of Vung Tau central city on December 20, on the line from Viet Nam to Hong Kong. Consequently, communication services such as emails and video calls from Viet Nam to foreign places are facing congestion problems. However, Internet operations within the country have not been affected.
Hai said the cable may have been cut by a ship's anchor or as a result of geological tremors. He noted that the broken cable had affected approximately 40 per cent of the company's international Internet capacity. VDC has currently restored about 60 per cent of the affected capacity.
Meanwhile, FPT Telecom general director Nguyen Van Khoa said about 27 to 31 per cent of its foreign Internet capacity has been affected, and the company has been using landline cables, instead of the AAG cable, for its operations.
The AAG cable, with a total length of 20,000 kilometres, was put in operation in November 2009. It connects the Southeast Asian region directly to the United States, and in Viet Nam, it lies on the Vung Tau coast.
The cable has been cut earlier too, in 2011 and 2012. The last incident occurred on August 13, 2012, in the same location, and it took about two weeks to fix it.
Source: VNS