VietNamNet Bridge - The fiber-to-the-home (FTTH) service has been provided in Vietnam for seven years already, but the stiff competition among telcos to attract customers has just begun.
Scrambling for every subscriber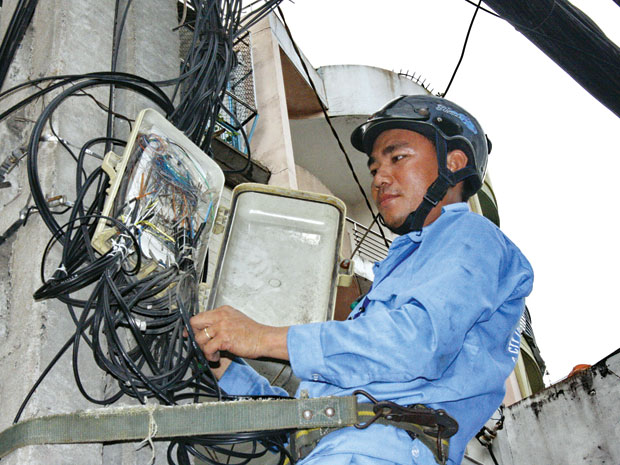 FTTH service providers have admitted that the investment costs on the infrastructure system have decreased significantly, which allows to reduce the subscription fees.
It cost some VND40 million in 2009 to lay one kilometer of fiber, while it costs now VND5-8 million only. Therefore, it's now the right time to develop FTTH subscribers.
All telcos now run sale promotion campaigns, mostly targeting household clients. Some offer free installation and network integration (VND1-8 million), give wifi modems, converters and give more capacity if subscribers pay fee in advance.
Viettel proves to be the telco which offers the lowest subscription fee. Customers have to pay VND350,000 a month for Eco 12 Mbps service package. Meanwhile, VNPT charges VND487,500 a month in fee for the service package at the same speed.
A telecom expert said Viettel's fee is the most competitive, because the infrastructure system of the telco is very large and powerful, which allows it to set the low prices. As the fee is competitive, Viettel would be able to attract more subscribers, which would offset the low turnover from every subscriber.
Meanwhile, FPT Telecom has been trying to "lure" the customers who are now using the services of other service providers (VNPT or Viettel).
Thanh Ngan, an officer of FPT Telecom HCM City branch, said if customers cancel the FTTH contracts signed before with other service providers to use FPT Telecom's FTTH Play package, they would enjoy the VND500,000 reduction in fee, having to pay VND1 million a month only.
Not only giving free auxiliary parts to attract customers, FTTH service providers also offer free use of the service for a certain time, if customers pay fee in advance.
A Viettel's worker at the HCM City branch said from now to the end of October 15, 2013, the customers who pay fees for six months at once, would enjoy one month of using the service free of charge, and if they pay fees for 12 months in advance, they would have 2-month free use.
FPT also applies the same measure to attract subscribers. The users of Fiber Business package would have two-month free use if paying fees for six months in advance (VND800,000 a month) and 6-month free use if  paying for 12 months at once.
Meanwhile, VNPT does not offer free use, but offers the discount of 30-40 percent of the service fees.
FTTH will replace ADSL
Le Van in district 3 in HCM City said his family has shifted to use FTTH instead of ADSL since the beginning of the year.
"With the current service fee, FTTH is by far better than ADSL," Van said.
"Previously, we used VNPT's ADSL Mega Maxi package with the down/up speed of 8Mbps/512Kbps, and we had to pay VND750,000 a month. And now we use Viettel's FTTH Eco package with the speed of 12 Mbps, while the fee is VND350,000 only," he explained.
Huong from Thinh Phat Company, an agent for VNPT, also said using FTTH is the wises decision for clients at this moment. In principle, FTTH subscription fee must be higher than ADSL fee. However, the FTTH fee is now lower, because telcos try to attract clients.
Mai Chi