VietNamNet Bridge – There are three ways for mobile network operators to go to increase their turnover amid the appearance of OTT apps, according to Le Thi Ngoc Mo, Deputy Head of the Telecom Agency of the Ministry of Information and Communication (MIC).
Mobile network operators can think of collecting surcharges from OTT service use, developing OTT services themselves, or cooperating with OTT service providers in order to launch reasonable service packages.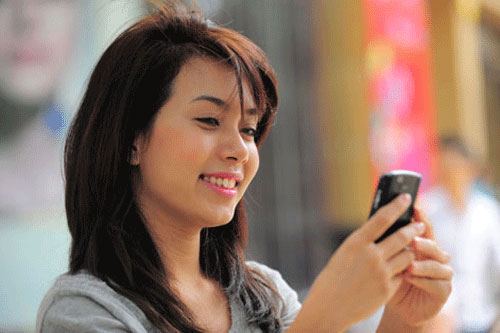 It's difficult to manage cross-border services
According to Nguyen Manh Hung, Deputy General Director of the military telco Viettel, in order to offset the turnover decrease caused by the existence of OTT services, it is necessary to combine the two phone and data networks to provide added value services on the basis of data services.
If so, telcos would not be creative enough and capable to provide OTT services, but they would have to cooperate with OTT to provide services on the basis of telcos' services and customers.
Nevertheless, it would be unfair for OTT enterprises to require them to obey the current regulations. As telcos are more powerful, OTT enterprises would be kept back.
Therefore, Hung said the State needs to set up a legal framework on the cooperation between telcos and OTT enterprises for providing services.
However, Hung admitted that it is still a big challenge to manage the OTT services which have been provided across the borders. All the foreign enterprises which do business and make profits in Vietnam have to pay tax to the State of Vietnam. Meanwhile, the global OTT enterprises such as Facebook, Google, Yahoo and Viber have been "living outside the law."
Jan Wassenius, a senior executive of Ericsson, also said it's unfair for Ericsson which has been following the Vietnamese laws over the last 20 years, while others service providers don't have to.
He has suggested that Vietnam should consider the OTT management mechanisms being applied in France, Japan and South Korea when drawing up a legal framework on the issue.
Deputy Minister of Information and Communication Le Nam Thang said OTT services would be managed by the telecom policies.
However, Thang said it is very difficult to put cross-border services under control. The draft TPP (Trans Pacific Partnership) agreement says that there would not be any kind of tax on any online products and commodities.
Thang, therefore, said this is the game of the giants and the very small kid on the same playing field where the same rules are applied to all.
Cooperation is the best way for development
Mo from MIC affirmed that OTT is inevitable which cannot be prevented. The thing that the management agencies need to do is to help both telcos and OTT enterprises develop and compete fairly. If telcos cannot have a sustainable development, OTT services will not be able to develop.
According to Mo, the three above said solutions are the best ones which can help offset telcos' turnover decreases and ensure the development of OTT enterprises as well. The solutions which allow ensuring the benefits of the three involved parties have been applied in China, South Korea and Japan
She said the State advocates telcos' plan to raise the 3G service fees to increase their turnover.
Buu Dien