VietNamNet Bridge - Many species of rare fish which were very expensive several year ago have appeared at popular markets thanks to artificial breeding.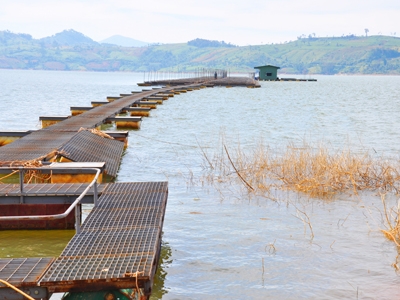 The fish cages on Buon Tuor Sra reservoir.
The front gate of a company that runs a big hydro-power plant on the Sre Pork River on Hung Vuong road, Buon Ma Thuot city, Dak Lak province, recently appeared a small board, offering for sale fresh hemibagrus for VND140,000 per kilo.
Hemibagrus is a delicious fish species with sweet white meat from the upstream to downstream of the Mekong River, with nearly a dozen different species. Their sizes range from several hectograms to tens of kilos.
The years after the country's unification (1975), fishermen living around the Mekong downstream tributaries, including the Sre Pork River, caught hemibagrus by every way, even with explosives. At that time they could easily catch the fish because the density of hemibagrus was thick.
Yet, that way of fishing, which took place for decades, has destroyed hemibagrus. Hemibagrus was almost extinct. The price for a kilo of hemibagrus soared to tens of US dollars but it was difficult to buy it. This period lasted until hemibagrus was successfully artificially bred.
Mr. Tuan, the owner of the largest hemibagrus farm on Ea Kao Lake in Buon Me Thuot city said: "Several years ago, my wife and I purchased hemibagrus artificially bred in the reservoirs of Dau Tieng and Tri An for sales in the Highlands, where the river hemibagrus was nearly extinct. Later, I learned hemibagrus farming techniques and hired this lake to open this farm. I've opened a breeding fish farm in HCM City. Every year I earn billion dong of profit from the farms."
In Dak Lak province alone, according to statistics from the local Fisheries Department, there are more than 500 small and large lakes with a total area of 16,650 ha that are available for freshwater fish farming. From these lakes, many rare fish species have been restored.
In Gia Lai Province, besides Bien Ho Lake, Ayun Ha Lake of up to 37 km2 is also the home to many fish farms.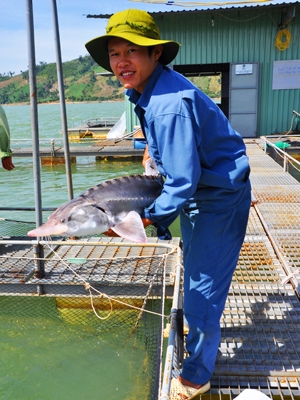 Breeding sturgeon in Vietnam.
Since 2001, the Fisheries Experimental Farm of the HCM City Agriculture and Forestry University has researched to produce breeding Hemibagrus. After five years, the technique has been transferred to farmers.
In 2009, the National Center for Aquatic Breeding announced the result of the 7-year project on artificially production of breeding giant barbs. This is good news because the giant barb is an endemic species of the Mekong River system which almost disappeared in the wild. Giant barb spawns naturally only from July to August.
But in the artificial environment, the National Center for Aquatic Breeding has lengthened the spawning season from March to October. The technique has been transferred to farmers in the Mekong Delta.
The Hung Vuong University in Phu Tho province has also succeeded in breeding loach, which was almost extint in Phu Tho's rivers. Thousands of river loaches were released to Bua River, Thach Son District, Phu Tho in late 2012.
In dozens of large reservoirs from north to south, in recent years many salmon and sturgeon breeding cages have appeared.
The genetic conservation of freshwater fish is sometimes taken by fishermen. A veteran from Dong Thap province, Mr. Pham Quang Tuyen, has successful bred snakehead fish and featherback, with an yearly output of  500 tons.
Recently, a student of the An Giang University has successfully concluded the project to breed yellow catfish after almost one year study.
According to the IUCN, up to 36 percent of the 5,685 species of freshwater fish, equivalent to more than one third of freshwater fish in the world are threatened with extinction.
Tien Phong