VietNamNet Bridge – Concerns over high inventory occurred from 2012 failed to stop Viet Nam's PC market from recording solid year-over-year growth in the first quarter of the year.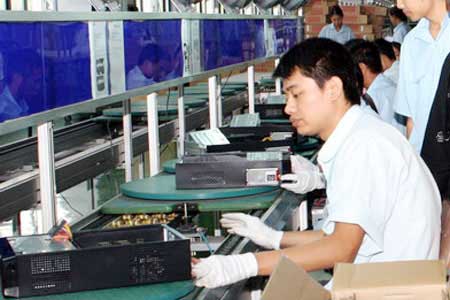 Computer assembly line at Hanel Company. The PC market saw solid growth in the first quarter this year despite high inventories from last year.
According to IDC's Viet Nam Quarterly PC Tracker, nearly 500,000 PCs were shipped in the first quarter, a drop of 20 per cent sequentially, but a growth of 13 per cent year-on-year.
Anticipation of growing consumer demand in under-penetrated areas of Viet Nam spurred vendors to increase consumer PC shipments.
"In light of aggressive competition and pressure from smartphones and tablets, vendors have shifted strategies to focus on mid- to low-end PCs in a bid to gain market share in the consumer area," said Phan Thi Hoang Yen, market analyst for PCs at IDC Viet Nam.
In the commercial space, sentiments were weak, with many SMEs facing bankruptcies in the last year.
"The SME sector has faced major difficulties, but Government spending has picked up and helped the overall commercial market record year-on-year growth of 8 per cent," she said.
Despite the concerns over the market's long-term stability, IDC is still forecasting 5 per cent growth for Viet Nam's PC market in 2013.
"Vietnamese PC vendors have just come out of a tough year. The banking crisis has triggered a spike in corporate bankruptcies and consumer sentiment is diminished," said Daniel Pang, ASEAN Research Manager for Client Devices Research at IDC Asia/Pacific.
"However, there are signs that Government reforms and new policies could rejuvenate IT spending, and public sector spending is also expected to pick up in the second half of 2013. Therefore, we remain optimistic on Viet Nam's outlook," he added.
From a vendor perspective, Dell has been actively working with its channel partners to improve its inventory management and channel margins.
This allows the vendor to be more price-competitive in the low- to mid-range segment in the consumer space.
HP, meanwhile, continues to do well in the commercial market, with a Government project and steady buying from its large enterprise accounts.
In the consumer market, the vendor has started to focus on low- to mid-range notebooks as well.
ASUS has adopted an aggressive pricing strategy to clear out stocks and improve inventory levels, with good results, according to IDC.
Source: VNS