VietNamNet Bridge – The Vietnamese search engine Coc Coc has rolled out the beta version of a tool for solving math problems that was specifically tailored for Vietnamese people.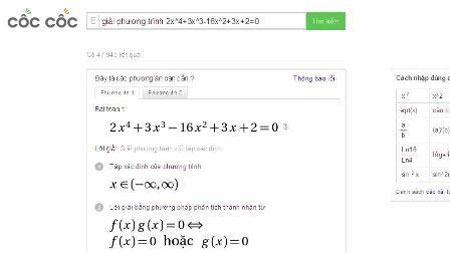 Coc Coc shows users detailed steps for solving an equation.  
According to a Coc Coc spokesperson, the tool can solve a variety of math problems, from simple calculations to solving more complex equations and drawing function graphs, as long as the user enters the correct syntax.
The spokesperson said the online math problem solving tool is not a new invention in the world, but Coc Coc is different because it does not just give the final answer, it shows how to solve some types of problems step by step.
Coc Coc also offers currency and unit conversion tools that can understand simple Vietnamese sentences.
Last month, the Coc Coc search engine was launched in Vietnam with a focus on local searches so users can look for detailed information about shops and restaurants near their homes.
According to Coc Coc Vice Director Pham Minh Tuan, the search engine was developed to provide users with local Vietnamese services and information that are not strong points for giant search engines like Google.
Since its inception, Coc Coc has received US$100 million from foreign investors and is currently employing 200 people, one fifth of whom are foreigners.
Coc Coc is currently aiming to replace Google and become the number one search engine in Vietnam.
Source: Nhan Dan