VietNamNet Bridge - According to information from the Internet service provider FPT, from October 25 through November 4, the international submarine cable AAG (Asia America Gateway) will be repaired. During this time, traffic transmission of telecommunications service providers in Vietnam will be affected.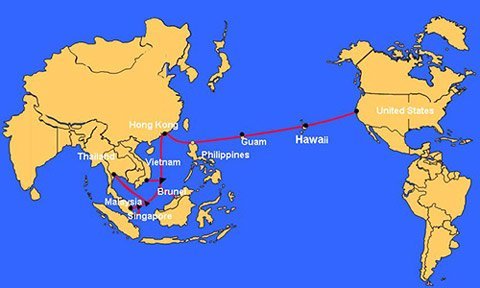 The repair is carried out because the AAG international submarine cable, the segment between Hong Kong and Vietnam's Vung Tau was broken on August 13, around 6.2 km from the landing point in Vung Tau. Then, due to the complicated error, on September 8, the cable was repaired temporarily to work so far.
The representatives of Internet services providers like VNPT, FPT Telecom and Netnam said they will transfer traffic to reserve routes through Hong Kong and some others. However, the customer's contacts, exchange of information to overseas by web services, e-mail, voice, video will be affected sometime. However, domestic transactions and information exchange will not be affected.
As being recommended by FPT Telecom, customers should use international Internet for critical services, other services should be transferred to domestic routes to optimize the transmission capacity.
The AAG submarine cable project was started in April 2007, with a total investment of about $ 560 million, with the length of nearly 20,000 km, starting from Malaysia (TM) and terminating in the U.S. (AT & T).
AAG has landing points in Mersing (Malaysia), Changi (Singapore), Sri Racha (Thailand), Tungku (Brunei), Vung Tau (Vietnam), Currimao (the Philippines), South Lantau (Hong Kong), Guam (USA), Hawaii (USA) ...
The cable branch to Vietnam belongs to the S1 segment, with a length of 314 km, landed in the southern city of Vung Tau and it was putinto operational in November 2009.
ICTnews