VietNamNet Bridge – The Saigon Hi-Tech Park in HCM City has set up the Viet Nam-Japan Training and Technology Transfer Centre with assistance from Japanese human resource training companies.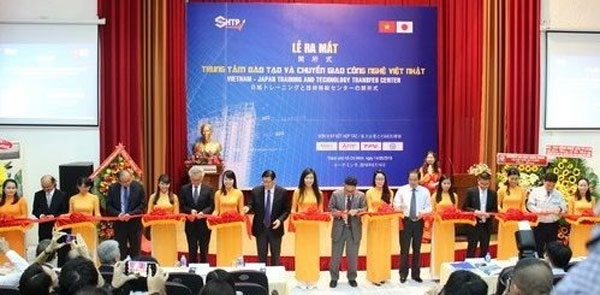 HCM City's Saigon Hi-Tech Park has set up the Viet Nam-Japan Training and Technology Transfer Centre to train personnel in the use of various technologies to meet the city's needs amid the fourth industrial revolution. Photo: shtp-training.edu.vn
Le Hoai Quoc head manager of SHTP said the centre would train human resources in the use of evolving technologies to meet the needs of the city during the fourth industrial revolution.
It would also help bring the latest Japanese technologies to Vietnam by linking up businesses from the two countries, he added.
At first, it will focus on training engineers working for Japanese businesses situated in the park.
The centre has already collaborated with these businesses to create suitable training programmes.
Hoang The Ban, co-founder of the centre, said Japanese businesses are responsible for drawing up the training programmes.
The centre is expected to become a leading training centre in the fields of robotics and automation in Southeast Asia over the next decade.
At its inauguration ceremony in mid-June, it signed agreements with Mitsubishi Viet Nam, Nidec corporation and Tan Phat Automation Joint Stock Company to train human resources in robotics and automation.
It has two laboratories for robotics and automation, which also act as a showroom for advanced automation equipment and apps for production line management support and product identification and classification invented by Japanese and Vietnamese businesses.
The Saigon Hi-Tech Park is in District 9.
Source: VNS