VietNamNet Bridge - The members of the Vietnamese blockchain community say they have confidence in the strong rise of technology in the future.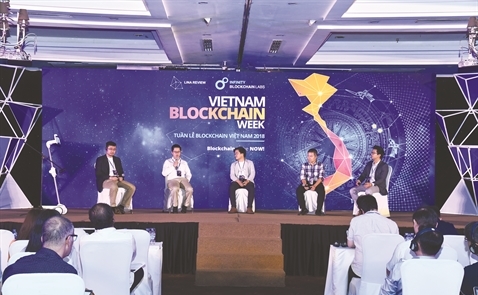 The international Blockchain Week was held in March 2018
During the international Blockchain Week event in early March 2018 in Vietnam, a special session was held with Vietnamese blockchain-based developers. The participants were impressed by Vu Duy Thuc, a well-known name in the blockchain circle. 
Thuc spoke via video stream about a robot he made at Omni Labs. It has a support base of rotating wheels, with the body a pole and the head a tablet. It is used with the elderly.
Thuc, who has a doctorate and is well known in Silicon Valley, talked about AI and robot trends, while other participants presented their research on blockchain technology. 
One speaker was Luu The Loi, who successfully called for $56 million worth of capital for Kyber Network through the issuance of tokens (the products created with blockchain technology) last October.
The members of the Vietnamese blockchain community say they have confidence in the strong rise of technology in the future.
Kyber Network is a trading floor headquartered in the US. According to Loi the new-generation trading floors mitigate the problems that traditional trading floors have. It eliminates intermediaries, and will help reduce the time needed for transactions. 
The trading floor will also ensure high security in comparison with traditional trading floors which hackers have visited many times recently.
At the meeting, Tran Huu Duc, director of FPT Ventures and director of VIISA (Vietnam Innovative Startup Accelerator) introduced a new product, an important tool to support startups' ICOs.
Another presentation was made by Long Vuong, the co-founder of TomoChain, a platform which provides technical issues related to blockchain. The model is believed to be similar to Chinese A-chain and was introduced at Blockchain Week.
The blockchain platform allows developers to use existing infrastructure to create tokens and smart contracts. TomoChain just had a successful ICO (initial coin offering) in early March and now has a client from the healthcare sector.
Nguyen Hung Nguyen, CIO of NAPAS (National Payment Corporation of Vietnam), said that blockchain technology has great advantages for payments.
"The payment process is very complicated. At NAPAS, real-time payments between banks are relatively stable, but there is still a lot of work to do to ensure that banks have adequate resources to pay and clients receive the money, " he said.
In 2017, NAPAS said it was planning to cooperate with Singapore Bank in blockchain use for money transfer between the two countries.
RELATED NEWS
Blockchain becoming more popular in Vietnam
Vietnamese PhD in blockchain technology predicts big year for cryptocurrency
Thanh Lich