Two thousand people took part in the first ever Viet Nam Blockchain Week, a global conference on blockchain technology and development, held in HCM City on Wednesday.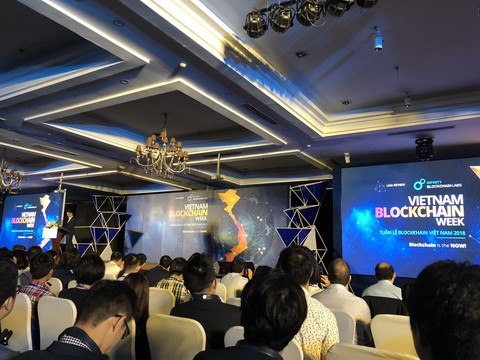 "The Ministry of Science and Technology encourages the development of new technologies like blockchain, to boost economy," Ta Viet Dung, head of the Ministry of Science and Technology's technology application and development department, said in his opening speech.
"I hope through the event leading international blockchain experts will share their experience and help Viet Nam adopt blockchain technology."
Junya Yamamoto, general director of Infinity Blockchain Labs Co Ltd, which organised the event, said: "Viet Nam has great potential to develop blockchain technology. However, the technology is now facing many challenges, such as lack of a legal framework for its use in finance, insurance, energy, food and trade."
Steve Leonard, founding CEO of SGInnovate, said: "When we think about adding information to a distributed ledger, the idea is that many people have a copy of the same information, so … we eliminated the risk of one central place being hacked or a bad actor falsify information.
"Many times we see a situation where technology is ready sooner than society is comfortable with it, and blockchain is the same."
Alex Medana, top Hong Kong fintech influencer and board member of the Hong Kong Fintech Association, spoke about where blockchain changes the finance paradigm.
He mentioned three advantages: with trust, money would flow quicker; asset exchange through blockchain is very simple and fast because everything has been digitised; new industries would appear to create new opportunities.
At a panel discussion on blockchain adoption for payment and transaction, a question many people are asking was raised: what's the contradiction between crypto-currencies and banking?
Prajit Datta of Bank of America said: "There is no contradiction here because the banking system is seeking opportunities to take advantage of blockchain technology. The problem is that supervision by one organisation, one in which they can put their trust, is popular with customers."
Altona Widjaja of OCBC said: "If all kinds of crypto-currencies are recognised, banks would take over their management by taking advantage of blockchain technology to serve their customers."
Nguyen Hung Nguyen, CIO of the National Payment Corporation of Viet Nam (Napas), said the benefits of blockchain technology in payments are huge.
"The payment process is very complicated. At Napas, payment in real time between banks is stable but a lot of work needs to be done such as how to ensure banks have enough resources to pay others and how to ensure customers receive their money.
"Blockchain can make the process simpler and promote efficiency in the process."
Stephen Chia of NEM Smart Asset Blockchain Foundation, said: "10-15 years ago we saw multiple databases being set up to serve the banking system. Blockchain is a new technology, very safe and cannot be hacked. The banking system must take advantage."
Daniel Chang, chief marketing officer of Cobinhood, a crypto-currency exchange, said the core of blockchain is decentralising.
"People are using Google and Yahoo, but hackers can break into them. That is one of the weak points of a centralised system. If today we move all the services into a decentralised world, we will have more transparency, irreversibility and security. Those are the upsides of blockchain."
Besides payment, blockchain technology has also entered many other industries.
Ashley Turing, CEO, LiveTree, a sustainable funding model for film and TV, said: "I look at blockchain as a way to empower creators and audiences, take control of the film industry and redefine how content gets on the screen.
"We have developed a proprietary protocol that is blockchain agnostic.
"A protocol is a mechanism for licensing your film and TV content. When you put your film and content in the cinema, they copyright it. That is how money is made. By using blockchain we add transparency to that process, and we give you the ability as the viewer to buy the rights and earn money when it gets distributed." — VNS