VietNamNet Bridge – While most women may be interested in shopping or having coffee with friends, Nguyen Thi Hoai finds her passion and happiness in scientific research.
Dedicated: Associate professor Nguyen Thi Hoai, who used to be a cancer patient herself, has been inspired to find reasonably-priced cancer medicines from herbs of Vietnamese ethnic minorities in central Vietnam. Photo cadn.com.vn
Hoai is an associate professor and head of the Pharmacy Faculty at the Hue University of Medicine and Pharmacy in the central province of Thua Thien-Hue.
One of her prominent studies is about the discovery of antioxidant and anti-cancer properties of 30 kinds of medicinal herbs used by the Pa Ko and Van Kieu ethnic minorities in central Vietnam.
With the study, Hoai received an award granted to outstanding Vietnamese female scientists by L'Oreal-UNESCO.
"I have heard much about the ethnic herbalists with their folk remedies for cancer and other diseases. After researching, I found out that many patients had their conditions improved after using such supplemental remedies," says Hoai. "Therefore, I was determined to study the compositions of those medicinal herbs to understand their properties to treat diseases."
In 2011 and 2012, Hoai travelled frequently to the mountainous areas of the central province of Quang Tri to seek the precious herbs. It proved to be a tremendously laborious task as it was not easy to persuade the locals, whose source of living is dependent on the medicinal herbs, to reveal their secrets.
"Besides collecting information from soldiers, local women's associations and youth unions, I used to spend days living and integrating with the residents to win their trust," recalls Hoai.
As soon as she got the samples, she spent years studying them in the lab. She concluded that 30 kinds of medicinal herbs can fight cancer.
Hoai compiled data on 14 kinds of herbs that can prevent cancer and 16 others that have antioxidant properties. She has also conducted a study on filtering the capacities of antioxidants and destroying cancer cells in 30 other herbal species.
The highlight of her study is the identification of two herbs with the strongest potential, their chemical constituents and biological effects, which can form the basis of further study. They are Uvaria grandiflora Roxb. ex Hornem that can eliminate cancer cells and Archidendron Clypearia that contain antioxidants.
Hoai's other studies have also been highly received, like the study on Hedyotis species in the family Rubiaceae, which has the capacity to inhibit the growth of cancer cells. The herb has been used as a component of supplemental medicines in treating cancer in China.
Staring cancer in the face
Born in 1977, Hoai chose to follow the scientific path after graduating from the Ha Noi University of Pharmacy instead of becoming a pharmaceutical sales representative with high salary.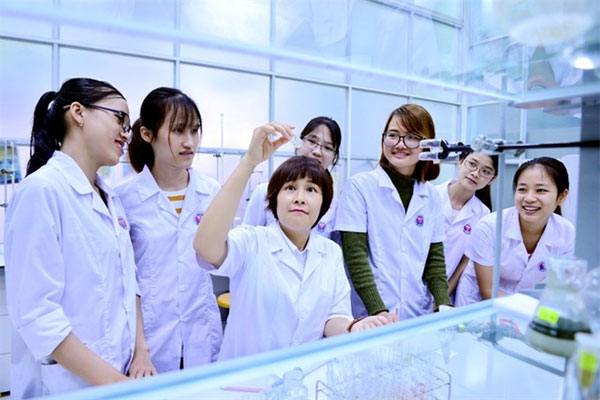 Learning process: Associate professor Nguyen Thi Hoai instructs students of the Pharmacy Faculty at Hue University of Medicine and Pharmacy to conduct experiments in the lab. Photo khoahocphattrien.vn
She successfully defended her PhD thesis with the highest marks and became the youngest associate professor of Hue University at 35.
Up to now, Hoai has been in charge of six ministerial research projects and 84 researches that have been published in scientific magazines, 21 of which have been published in international magazines and conferences.
Surprisingly, the young scientist used to be a cancer patient herself. She was diagnosed with thyroid cancer, but her disease could not dampen her passion for scientific research.
"I almost collapsed when doctors told me I had cancer. I was overwhelmed with sadness, but at the same time I thought I needed to be stronger and make full use of my time to get treatment and conduct research," Hoai says.
She underwent three operations and then radiotherapy, which made her understand that diseases can take away many things from a person, notably health and time.
Even though she seriously followed her treatment regimen, she never took a break from her studies.
"Once when I was pursuing a ministerial research topic, I spent the whole night writing until dawn. I want to fulfil all my intentions. I see myself having too many things to do. I arrive at the lab everyday, and most of the time I work until the very last day of the year before Tet (Lunar New Year). After Tet, I wish the lab's doorkeeper opens it early so that I can get to work," Hoai says.
Her passion for science and spirit to overcome fate has inspired her students and colleagues.
"Hoai has always accomplished her duties during her 18 years at the Hue University of Medicine and Pharmacy," says Vo Tam, vice dean of the university and Hoai's colleague and teacher. "Admiringly, she was inspiring her students, ceaselessly conducting researches and helping patients with better ways of treatment even as she was struggling against a fatal disease. She has set a good example for many students and colleagues."
Luckily for her, Hoai's condition became stable. She was told that the cancer cells inside her body had been tamed.
But the young scientist had no time to rejoice. She is busy conducting further studies on medicinal herbs.
"It takes a great deal of time to study medicinal herbs. For example, it takes nearly 20 years to study the Crinum latifolium plant before extracting its ingredients for medicines," she says.
"The plants that I have studied have just been experimented in the lab. At the moment, I am looking for other ways to further my study. If I receive financial support, I will go back to live with the ethnic Pa Ko and Van Kieu to collect more samples, study them more thoroughly and conduct clinical experiments before having them produced into medicines.
"Until then, these medicinal herbs can be grown on a large scale," she says, adding that she hopes to improve the lives of the local people with their traditional medicines while patients can benefit from good-quality and reasonably-priced medicines.
"I think being able to live and work every day is a great source of happiness," Hoai says. 
by Bich Ngoc
Source: VNS